Ask the locker room of the Los Angeles Lakers, and most players will tell you life on the road in the NBA is far duller than most fans would imagine.
Today's basketball stars have grown up in the social media age or at least adapted to it, and so, the days of going clubbing until 4 a.m. on a game day are rare, if not altogether reserved for the past. On a Lakers' team full of young talent in its early 20's, 37-year-old Metta World Peace is the connection to the past, though he, in many ways, embodies the transition from the past to the present.
"Honestly, I don't know man," World Peace responds when asked if he has any standout memories from his first year on the road. "I was probably drunk half the goddamn time. I couldn't tell you. Rookie year was crazy, man. I can't even remember that [stuff]. I was drunk all the time."
"Metta's come a long way," Lakers coach Luke Walton, who is actually younger than World Peace, says upon being told of the former Ron Artest's recollections, or lack thereof.
World Peace says, "In Chicago, we were plain losers, so [expletive] it, right? In my third year in Chicago, I started to take it seriously. By the time I got to Indiana, it was a transition, but I would still drink. I didn't notice how bad drinking was until my first year here (in Los Angeles). I didn't realize how bad the alcohol was."
That first year in Los Angeles is when World Peace and Walton became teammates, going on to win the 2010 NBA championship. World Peace shares his reformed wisdom with the passion of an evangelical, "When I was 25, I felt worse than I feel now. I was still balling, but as far as my body, everything was sore. Everything hurt."
Local
Get Los Angeles's latest local news on crime, entertainment, weather, schools, COVID, cost of living and more. Here's your go-to source for today's LA news.
The alcohol had been cut out by the time World Peace arrived in LA, and Walton remembers a monk-like Artest who was so health obsessed that he refused to even eat the catered airplane food.
"I remember every city we'd land in, Metta would go find the Whole Foods and buy his meals for the whole trip," the coach recalls.
Though Walton probably did not go through his entire rookie year drunk, he doesn't remember much about those early road trips in the NBA either: "The only thing I remember about it was being blown away, like when we got off the bus, they just told us, 'We'll see you tomorrow morning at 10 am,' In college, you have a film session, team dinner all of that stuff. You get to the NBA and you get to a city and they just tell you 'You're on your own for the rest of the day.' That's the only thing."
So what did Walton do with his free time? "Some cities, you have friends from college, so you go meet them for dinner. Other cities, you go out to dinner with your teammates. Our bench used to all go to the movies together at least once on every road trip."
Walton adds, "You find stuff to do."
Some players find trouble, but the current Lakers have steered clear of the tabloids, which is tough considering the ubiquity of camera phones and the ease with which anyone can publicize any moment via social media. So what do the players do on the road, then?
For the younger additions to the NBA like Larry Nance Jr., Ivica Zubac and Jordan Clarkson, life on the NBA road is often about going on special trips to historical sites and getting privileged access that comes along with being a member of the Lakers.
"Me and Anthony Brown went and visited the Martin Luther King Jr. assassination site," Nance thinks back to one of those special trips during his rookie year. "That was cool to see a little bit of the history. Private screening of movies he had, and that was a bit of the exclusive NBA experience. It was elite. It was awesome."
Thinking a little harder, Nance's voice jumps a couple octaves, "Actually, the coolest thing? We got to tour the NASA facility, and we got to learn how to fly. Well, not learn how, but fly simulators and all that. It was really cool. Honestly, if we get to do it again, I'll be in there every single time."
While Nance tries to think of interesting things to say about the road, Clarkson interrupts and jokes about how they get sleeping bags and sleep in the same room. It's a joke, but the road is about building camaraderie as much as it is about anything else.
"Probably the JFK memorial," Clarkson says when asked about his favorite museum visit on the road. "Just venturing off and seeing stuff that I haven't seen before. Just to see about the conspiracies, the facts, to see all that."
Life on the road in the NBA offers an extended, specialized education beyond the basketball and the social aspects of being celebrities and successful at a young age. More important than going out for a meal or learning about the city, the NBA road life is about recovery.
"It's learning how to buy time while resting your body," Nance says. "Sometimes you want to go like there's a mall down the road, 'I want to go there,' but then, you know what, 'I just came off a back to back.'"
Nance says he spends 90 percent of his time in his hotel room, referring to himself as a "Netflix aficionado." Related, "Chill" is the word most often used to describe what activity players do on the road. "Nap" is a close second.
Nance admits he's just not a club guy, though that option could be available considering the down time and the amount of freedom afforded to NBA players. Perhaps a window into the second-year forward's mindset comes when he thinks about which cities he most wants to visit and why. The 24-year-old is looking forward to going back to Chicago because it has a nice hotel, and he's most excited about returning to San Antonio, of all places, because the hotel the team occupies has a particular dish that agrees with him.
"The salmon and mushroom risotto," Nance says with hearts in his eyes. "We stayed (in San Antonio) for two days last year, and I had it probably seven times. Best food on the road."
From Walton to World Peace to Clarkson and Nance, every player said that long road trips force team bonding. Seemingly, it's inevitable.
"Yes, absolutely," Walton says about the bonding component of long road trips. "When you get all the other distractions away and it's just you and the team, I think it's a fine line. I think you should bond nicely on the first part of the trip and when you're on a trip as long as we are, by the last day everyone's kind of sick of each other and ready to get home, but there's definitely bonding that happens on road trips for sure."
Clarkson summarizes his coach's thoughts far more succinctly, "We don't have anybody else to see but us. All day, we're just chilling."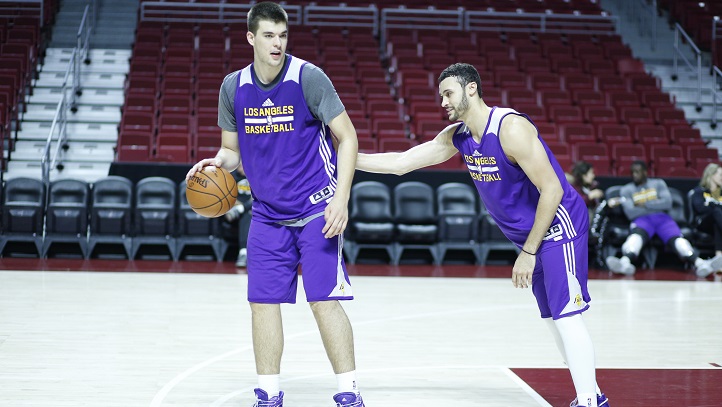 Providing a far more unique perspective, Zubac is a 19-year-old rookie who played professionally in Europe before joining the Lakers. Due to his young age, the team assigned Zubac to the LA D-Fenders for stretches early in the season, and so, the Croatian experienced first-hand the difference between luxurious travel in the NBA and the modest road life in the NBA Development League.
"In Europe, you have to eat breakfast with whole team together," Zubac says in a thick, endearing European accent. "You have to eat lunch, whole team together. You eat dinner, whole team together. And here you don't have to do that."
Zubac explains that road trips in Spain meant hopping on a bus for a single game and returning home, so the idea of an extended seven-game cross country road trip involving private jets was as foreign to him as he was to the snow-less winters of LA. Getting dropped down to the D-League, though, offered him a reminder of how good life is in the NBA.
"It's a lot different," Zubac says about playing with the D-Fenders. "We fly with commercial planes. You need to wait a lot for the check-in, for boarding. We have worse hotels than the NBA. Everything is different. Everything you do is one level below the NBA."
Zubac thought about what he loved most about his first road trip in the NBA, "First time, it was like you get there 15 minutes before flight, before taking off. You don't have to go to check-in or anything. You just go on the aircraft and enter the plane."
The private plane is something World Peace remembers from his first year in the NBA, too. In fact, it's about the only thing he remembers.
"I remember the plane," World Peace says with a light bulb appearing over his head, after previously drawing a blank about his rookie road trips and blaming it on the alcohol. "We had an amazing plane. The plane had suites. I got there right after (Michael) Jordan and those guys, and I never had money. The plane had suites, so we had a door and a curtain, lay all the way back, put the curtain up."
World Peace says with a giant smile that further goes to explain why that rookie year was a bit hazy, "We had a bar on the plane!"
Approaching two decades later, World Peace contends that the Bulls' plane was still better than the Lakers' current private service. "Yes, it was insane. I've never been on a plane like that since. Even though I've been on Dallas' plane, their plane wasn't even like this Bulls' plane. The Bulls plane was insane."
Asked what he does on the road these days, World Peace says he mostly stays in his hotel room and writes music. Oh, and he also claims he's writing three books simultaneously. Of course, he is.