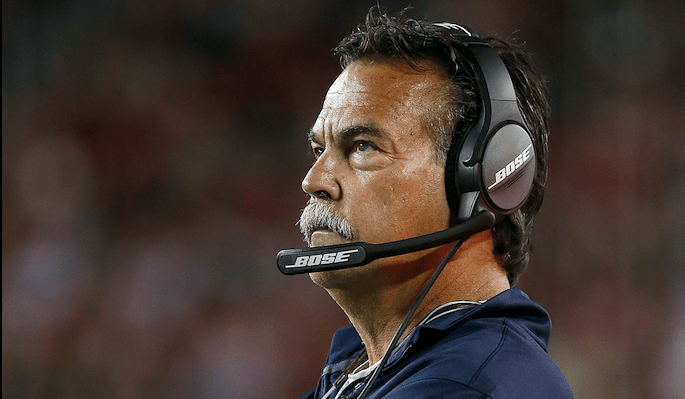 Just keep swimming.
It was a rough sleepless night for Los Angeles Rams head coach Jeff Fisher. Not only did his team suffer one of the most embarrassing losses in franchise history with their 28-0 drubbing on national television at the hands of the San Francisco 49ers, but Fisher also found himself in an odious place in NFL history.
Following the shutout loss in their opening game of the 2016 season, Fisher finds himself alone in third place for the most losses by a head coach in NFL history with 157.
Local
Local news from across Southern California
Tom Landry (162) and Dan Reeves (165) are the only two play callers ahead of Fisher, but the 22-year veteran is not focused on the losing milestone, but how to get his team to rebound on a short week to play the Seahawks on Sunday in Week 2.
"We have a 24-hour rule," Fisher told the media on Tuesday. "We basically have this philosophy that you have 24 hours to get this over with, corrected and done."
If you're reading this, hopefully you were one of the lucky ones who fell asleep before the game ended. The uncompetitive opener was one of the worst games in Monday Night Football history and a huge disappointment for LA's newest sports franchise.
"We expected to go in there and win the football game," Fisher said. "We didn't expect to go in there and get beat 28-0."
But they did get beat 28-0, in fact, they were the only NFL team not to score a single point in Week One and still have not scored a point as the LA Rams since December 24, 1994.
The Rams offense was the weakest link at Levi's Stadium as Case Keenum put up a paltry passer rating of 34.2. He didn't get much help from his receivers who dropped a number of passes, his offensive line couldn't win the battles up front, and his running back Todd Gurley rushed for just 47 yards.
"You don't win games going 3-of-15 on 3rd down," added Fisher. "You don't win games with 10 penalties, not rushing the football, not scoring points and giving up too many big plays. We didn't do enough to win the game."
The ten penalties, including the seven on defense were a glaring concern for the Rams. The team lacked discipline and shot themselves in the foot on two separate occasions.
"We had opportunities to get back into the game," mentioned Fisher. "We just never capitalized on it."
First, a personal foul penalty for taunting on Gurley just as LA looked like they were driving deep into Niners territory and second, an ejection for All-Pro defensive lineman, Aaron Donald, for hitting an opponent and then putting his hands on an official.
"Aaron was playing really hard. There was some chirping going on and Aaaron pushed No. 11 away, he shouldn't have done it," Fisher explained of the ejection. "The helmet comes off and now things start. One of the officials put his hands on Aaron and he slapped his hands away. That's where the ejection comes from."
At the end of the game, the Rams looked like a dejected team who had resigned themselves to the reality that they are not a Super Bowl contender this season. Their body language spoke volumes and with the 2014 Super Bowl Champion Seahawks coming to the Coliseum, things could snowball quickly.
"You have to learn from it and move on. We're resilient. Everyone is either 1-0 or 0-1 and we're looking ahead to Week 2," Fisher said. "I would like to think we're going to have a significant home field advantage there. We're disappointed with last night, but we're looking forward to our home opener."
It will be a tall task to beat Pete Carroll and the Seahawks in Week Two, but the Rams went undefeated against Seattle in two games last season and can use the confidence from those victories on the field on Sunday.
The 90,000+ expected fans in attendance should certainly help matters and if the Rams can squeak out a victory in their home opener, it's a whole new season.