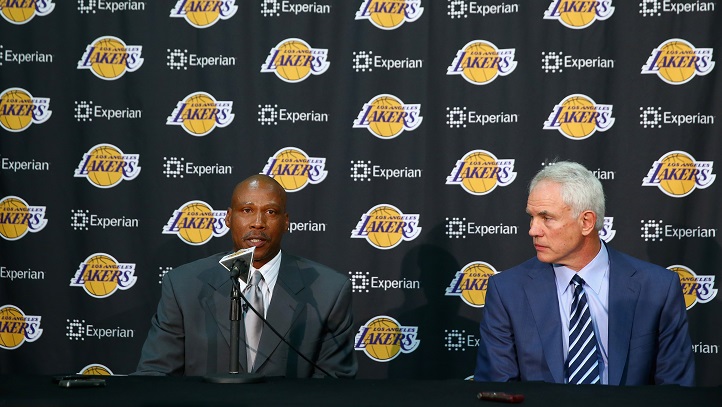 Recently, Mitch Kupchak afforded the LA media roughly a half hour to discuss the departure of Byron Scott, the arrival of 36-year-old new Lakers coach Luke Walton and the future outlook for the Lakers' francise.
"It didn't go wrong with Byron, and there's no one thing that we can point to," Kupchak started his press conference. "The expression, 'It's a decision to go in another direction' is overused…Byron did a wonderful job under very adverse circumstances the last two years. I know he wasn't expecting not to coach our team next year. I know he was hoping that he would coach."
Kupchak offered thanks to Scott before adding, "But that's the business."
Local
Local news from across Southern California
Moving onto Walton, Kupchak shared that the Lakers had several interviews lined up with candidates, but Walton was the first choice. After the initial interview, the team felt convinced enough to jump on the opportunity and secure the top assistant before other sharks jumped into the waters.
To Kupchak's knowledge, Walton had yet to interview elsewhere, and his services would likely be in high demand after he led Golden State to a 39-4 start as interim coach.
"Pat Riley was our last 36-year-old coach," Kupchak contended that the lack of experience could prove to more of an asset than a liability. "He did pretty good."
Similar to Riley, the Lakers knew Walton well from his playing days and time working with the organization after retiring, so the Lakers' executive argued that the process did not need to be drawn out. After six hours of talking basketball, Kupchak and team owner Jim Buss decided that Walton had a well thought out defensive and offensive playbook and would be the next coach of the team.
"Luke does intend to play fast, up-tempo basketball similar to what Golden State does," Kupchak shared. "We don't have the players that Golden State has right now, and in this league, it's a player-oriented league. You're only going to be as good as your players are, and that falls on the basketball department to provide him better players going forward."
Kupchak added, "He does like the players we have and he thinks we can play a similar style of basketball that's really prevalent in the NBA right now. It's exciting. It's fun to watch and it's a high skill level."
When Kupchak refers to the basketball department, he is primarily referring to himself. The Lakers need to get better players via trade, free agency and the draft. Next in that line is a May 17th date with the draft lottery. If the Lakers hold onto their pick, which is a 55.8 percent probability, LA would have even greater mobility in terms of assembling a first-rate roster to help the team rebound from three of the worst years in franchise history.
"In terms of getting better, nobody is off limits (for a trade)," Kupchak made it clear that no one was untradeable. "You have to listen. You have to take calls. And if that does happen, that's a good thing. That means you have players that other teams want."
Even with Kupchak and the basketball department working to give Walton better players than the Lakers have featured for the past three seasons, Walton will need help on the bench.
Kupchak stated that the team is not waiting for the playoffs to conclude to conduct the search and fill out the coaching staff. The Lakers general manager stated that he believed Walton had a good idea of the personnel he wanted, but the Lakers will have a dialogue and have input in the decision.
"At the end of the day, the organization has final say," Kupchak revealed the terms of hiring assistant coaches. "It would never get to that point."
The Lakers also seemed confident that Walton's experience in running the Warriors as interim coach for 43 games provided him valuable tools to make the transition from being a successful assistant coach to being a successful head coach.
"He will be surrounded by experience coaches," Kupchak said about Walton's supporting cast. "I think more than ever, the front office will be involved with development of a young coach. As long as I can remember, we've had veteran coaches here I guess since Del Harris (1994-99)."
Kupchak added, "So, this is something new for us, and I expect to be more involved day-to-day than we've ever been in terms of the front office and what takes place down in the locker room."
Further, Kupchak hypothesized that Walton's age would likely help him relate to the players, which he labeled a "plus" in both coaching existing players and recruiting new players.
However, the Lakers general manager made it clear that Walton would have the opportunity to coach the team as he sees fit and that Kupchak and the front office would be available as tools to aid the youngest coach in the NBA. Beyond the bench, though, Kupchak made it clear several times that the team needed to provide Walton with an improved roster.
With Kobe Bryant retiring and a sharp increase in the salary cap, LA has the ability to welcome in multiple maximum salary players over the summer. Walton will be a key salesperson in those free agency meetings.
"If Luke doesn't have a lot to sell, it's hard to sell something," Kupchak said. "So, it's incumbent on us as an organization to provide assets and pieces that makes it an easier sell."
Kupchak heralded a new era for the team and hoped he could provide a dramatic improvement, rather than a slow rebuild.
"Kobe's retired," Kupchak said. "So, it's clear we're entering a new arena of basketball for the Lakers going forward. We do want to begin to win as quickly as possible, but first and foremost, we want to build a strong foundation. We want to make sure we do this the right way."