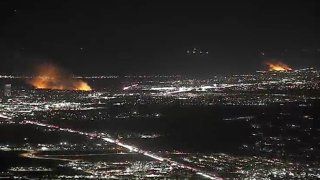 A pair of brush fires fueled by high winds burned in Ventura County as another small blaze was also spotted near the pier.
The first wind-driven fire broke out near 3270 Perkin Ave. off of the 101 Freeway. It was about 50 acres late Tuesday.
Firefighters were putting out hot spots early Wednesday.
No structures were threatened but homeless people were being evacuated.
The smaller fire was spotted near the pier by NewsChopper4. It was held to about 5 acres.
Refresh for updates.