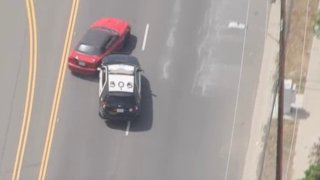 A pursuit on streets and freeways Wednesday in the San Gabriel Valley ended with a PIT maneuver that sent the car into a spin.
The driver of the possibly stolen Mustang was chased by deputies in the city of Industry before heading east into the West Covina area.
The chase ended when a deputy used the PIT (pursuit intervention technique) maneuver to whip the car around. The driver was taken into custody.
Refresh this page for updates.