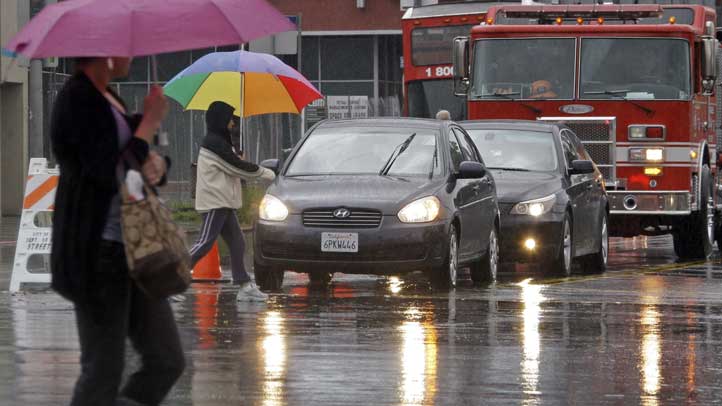 Friday's notification from the National Weather Service is a good reason to think again before traveling anywhere in the mountains.

"The combination of blowing snow and dense fog could locally reduce visibility to near zero at times,'' the NWS said.
A cold storm hit the region early Friday, bringing snow, rain and powerful winds.
Local
Local news from across Southern California
The National Weather Service has extended a high wind advisory for trucks and campers driving through the Antelope Valley foothills and snow-covered Los Angeles-area mountains this morning. Forecasters estimated southwest winds reaching 20 to 30 mph with gusts up to 50 mph in Lancaster and Palmdale that may blow dust, reducing visibility at times.
"Winds this strong can make driving difficult, especially for high profile vehicles,'' the agency said. ''Use extra caution.''
The Pacific storm was predicted to generate the greatest snowfall and winds Friday morning in Los Angeles-area mountains, bringing high rip currents to Southland beaches this morning, the National Weather Service reported. Forecasters predicted one-quarter of an inch to a half-inch of rain across the region with snow falling between 4,500 feet and 6,000 feet Friday night, bringing six to 12 inches in Ventura and Los Angeles mountains.
Southwest winds were reported to reach 25 to 35 mph with gusts up to 55 mph during the peak of the storm.
Another front will move into the area on Saturday night, with a 60 percent chance of rain. The evening will remain mostly cloudy with a low of 49.
The abundance of rain has flood control experts on levee patrol. The state's largest reservoirs are near capacity, according to the California Department of Water Resources.
That means increased water volume downstream. Most of the water ends up in the Sacramento-San Joaquin Delta, which provides Southern California with nearly half of its water.
By Monday, sunny skies are expected to return, with a high near 69 degrees.