Lyme disease? As a defense for murder? Really? Is this the new Twinkie Defense? Or is it something real that should be taken seriously? First, a little history and a picture of a yummy snack cake.
The year was 1979, and former San Francisco Supervisor Dan White was on trial for killing Mayor George Moscone and Sean Penn -- er, I mean Supervisor Harvey Milk (the guy the movie Milk is named for) and blaming, in part, depression brought on by eating junk food. It was mocked as the Twinkie Defense even though DELICIOUS HOSTESS TWINKIES were never brought up by name in the trial. I revisited all this on Wikipedia this morning, where the term "Twinkie Defense" is called a "derisive," and:
"While biological factors may certainly influence behavior, the label of "Twinkie defense" implies that the specific biological factor is one that most people would view as not being sufficient to account for criminal activity, such as the effects of allergies, minor stimulants such as coffee and nicotine, sugar and/or vitamins."
Okay, now the disclaimer: Twinkies really are gross, but kind of delicious in a sickening way. When you look at a picture like this one, up close, when you're starving because it's 7 in the morning and you've been up since 3. I mean, seriously...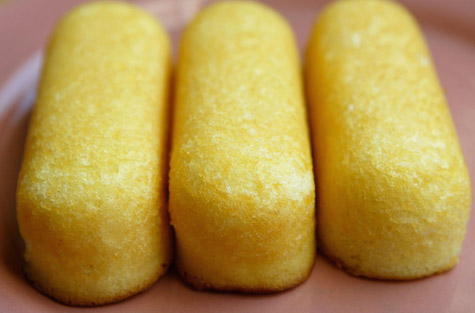 Did you know Twinkies were originally banana-cream filled, until the Second World War when bananas became scarce? Yes, really!
Anyway, Twinkies being mixed up in a murder is pretty weird, and now we're hearing of an equally weird defense that's surfaced in two cases: "The tick made me do it, it was Lyme disease!"
This is the latest development to surface about this church shooting in Illinois over the weekend -- the suspect is is suffering from Lyme Disease. Huh? Apparently, it can cause erratic behavior. But medical experts are already slamming the claim that it could be a defense in a case like this; according to an Associated Press story,
Local
Get Los Angeles's latest local news on crime, entertainment, weather, schools, COVID, cost of living and more. Here's your go-to source for today's LA news.
"...leading disease specialists say there's no convincing evidence linking the tickborne ailment to such violent behavior. "Lyme disease doesn't cause people to shoot people," said Dr. Eugene Shapiro, a Lyme disease specialist at Yale University. He recalled an ax attack in Connecticut in which the perpetrator "pleaded Lyme disease defense. That didn't fly."
So. What's the other case with a Lyme disease connection that's been in the news lately? That chimpanzee, Travis, that viciously attacked that woman in Connecticut was also suffering from Lyme disease, and this story quotes a doctor who seems to think there may be a connection:
"Dr. Charles Ray Jones, a Lyme disease specialist in New Haven, sees patients from across the country. Jones said common behaviors of the disease are psychosis and rage. "Sometimes they have to be on psychotropic medication to control it, then they have to come off," he said. ""We've had several children who've had such bizarre and violent reactions that they've had to be hospitalized in a psychiatric unit."
Speaking of doctors, did you see this story on a clinic offering a March Madness vasectomy special? There's one in Oregon, and one in Texas that's running this ad:
The reasoning being, if you have to sit on the couch for two days to recover, it may as well be during March Madness. They're working extra hours at the clinics, and giving away coolers with bags of frozen peas to sit on during the games.
The radio ad warns, if you miss out, you may end up getting your vasectomy at a bad time ... like during a Desperate Housewives marathon weekend. Yeah, there went your manhood. Ouch.