It's been an exciting morning here on the NBC lot, as we're just hours away from the President's visit.
It's not every day the President comes to your workplace, although we get a little jaded with the superstar guests we see wandering the halls before their tapings on the Tonight Show.
In fact, it's not even the first time Barack Obama has been on the Tonight Show -- okay here's that picture again, from a few years back when he was candidate Obama.
Not even "nominee" Obama at that point, there wasn't even a ripple that anyone important was on the lot that day.
Oh how times have changed! As I drove in this morning, instructed to park outside the lot rather than our usual spots right outside the Tonight Show entrance, people were lined up around the block. The last time I think I saw it like this was Justin Timberlake's visit ... or maybe the Jonas Brothers...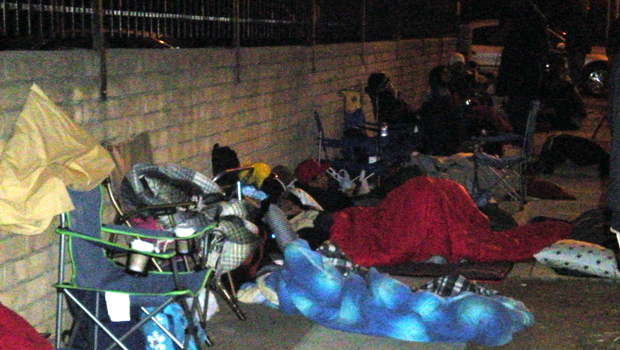 I don't know where everyone parked .. the street signs went up on Tuesday all around our lot that street parking is off limits for a "Special Event" today...
Robert Kovacik did his liveshots outside our studio this morning, and what a party it was overnight! They started lining up yesterday afternoon, and most of them will get those first come/first served tickets to see the Tonight Show this evening. Check out one of his reports in the video box on the left of this page.
I won't be getting in though. Check out this video (in the other video box on this page) I took of my very lame attempt to get around the lot around, oh, 8 this morning as they were putting up a tent for the President's motorcade to pull into. Makeup artist Lisa Morgan and I couldn't sweet talk our way around the Tonight Show security staff, much less the Secret Service. I tried to get a visiting group of Marines to pull some rank and sneak me in (that's in that third video box) but we didn't get too far either...
So yes, I can say I've been thrown out of the Tonight Show area of our lot twice now ... ugh. How embarrasing. Someone's going to be baking mea culpa cupcakes for the next few weeks.
And I'm not the only one being barred from access. This is our home base, NBC, flagship station on the West Coast KNBC...Tonight Show studio just a stone's throw away, we're all part of the fold, right? Um, no. There's been some controversy with how reporters and photographers will be allowed access -- you can read the story -- but the gist of it is the Tonight Show staff says the studio is too small to accomodate the regular White House press pool, and they would release a photo of its own for the media to use.
That didn't fly. So,
"The White House compromised Wednesday evening, saying photographers would be allowed to take pictures during a commercial break.

Photographers argued for the right to independently document the taping, a rare — and perhaps unprecedented — appearance by a sitting president on a late-night comedy show and an event billed primarily as a news event, not entertainment."
I can't wait to see the show, which I will watch from the comfort of my own home tonight with everyone else. I'll post some highlights, and thoughts on how it all went tomorrow. If you'd like to weigh in, send me an email at jennifer.bjorklund@nbcuni.com, or post a comment on my facebook page, and maybe you'll get a shout out! But ... don't expect me to be able to get you in to see the Tonight Show any time soon.
Local
Get Los Angeles's latest local news on crime, entertainment, weather, schools, COVID, cost of living and more. Here's your go-to source for today's LA news.