Here's a new one for you if you're trying to cut down on impulse spending ... check your calendar. Match it up with your checkbook ... if you're a woman. I think men know this already, but I was surprised by this story on the BBC website that connects your cycle with your spending habits.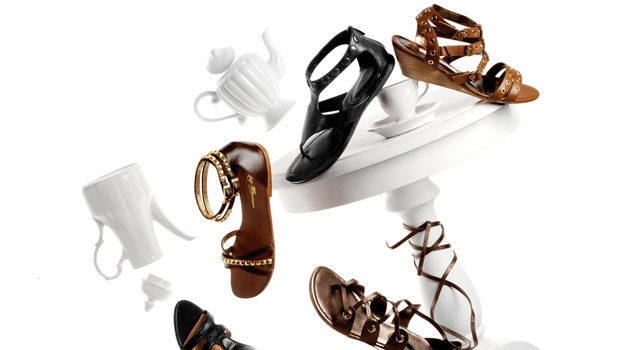 Retail therapy for PMS? Maybe!
What better way to feel better about yourself and lift your mood than a new pair of shoes? The story says, "the spending behaviour tends to be a reaction to intense emotions. They are feeling stressed or depressed and are more likely to go shopping to cheer themselves up and using it to regulate their emotions."
And it's not just about hormones and emotions. Some of it is possibly evoluntionary:
"Another explanation might be that women are buying items to make themselves feel more attractive - coinciding with the time of ovulation when they are most fertile, typically around 14 days before the start of a period.
Most of the purchases made by the women were for adornment, including jewellery, make-up and high heels.
Local
Get Los Angeles's latest local news on crime, entertainment, weather, schools, COVID, cost of living and more. Here's your go-to source for today's LA news.
Professor Pine said: "Other researchers have found there is an ornamental effect around the time of ovulation." Researchers have found women tend to dress to impress during their fertile days."
Innnnnnnteresting. See, we really can NOT help ourselves. It's in the DNA ... we have to keep the species going.
(This story, by the way, is the "most shared" on the BBC website! "See honey, THIS is why ...")
That one led me to another story in the "see also" column next to it: wearing red boosts attractiveness of women. Somehow triggers thoughts of fertility or ovulation or something in the opposite sex. What's more,
"Men said they would spend more money on a woman pictured in red, compared with the same woman wearing a blue shirt.
"...When the pictures were shown to other women, there were no wardrobe-dependent differences in attractiveness ratings. "
So maybe we women should wear that red dress when that PMS credit card bill comes.
Speaking of bills, here's one we, as taxpayers, aren't picking up. This story caught my eye today when a friend posted it on Facebook. "Obamas paying for White House Renovations Personally." It says the Obamas aren't using the money allotted them for redecorating their living quarters:
At a time when people are having trouble holding on to their houses, Barack and Michelle Obama have sensibly decided not to use taxpayers' money to renovate theirs. New presidents are allotted $100,000 to overhaul the White House residence and the Oval Office, and the Obamas hired Hollywood decorator Michael S. Smith (known, per his site, for mixing "Old World classicism with very contemporary settings").
But the First Couple isn't spending that money. They "are not using public funds or accepting donations of goods for redecorating their private quarters," says Camille Johnston, director of communications for the First Lady.
Nor is the couple, who reported $4.2 million in household income in 2007 tax returns, using money from the White House Historical Association, a privately funded foundation that paid for a $74,000 set of china shortly before Laura Bush left town."
One reader posted this comment:
"Finally the White House has occupants who are real people and demonstrate real values, who conduct themselves according to these values. I have always said that if America were to elect a leader who conducted himself and the publics business with the same ethics and values that are at the true heart of America, we wold all be better off. In spite of our current troubles, I believe we are."
If that story didn't make you smile, this video will. It's an oldie but a goody, and thanks, Terrance, for sending it to me. I do love watching other news people come unraveled on the air.
Okay, so I get lost in YouTube -- remember, this feature is called What's Jen Clicking on, not What Jen wants you to THINK she's clicking on!
Have a great Monday. Maybe I'll have something intelligent to write about tomorrow. Or, maybe not!
Editor's Note: This piece is ok, but would be a better read if it included references to medium- and large-breed dogs. I'm just sayin'... that's all.