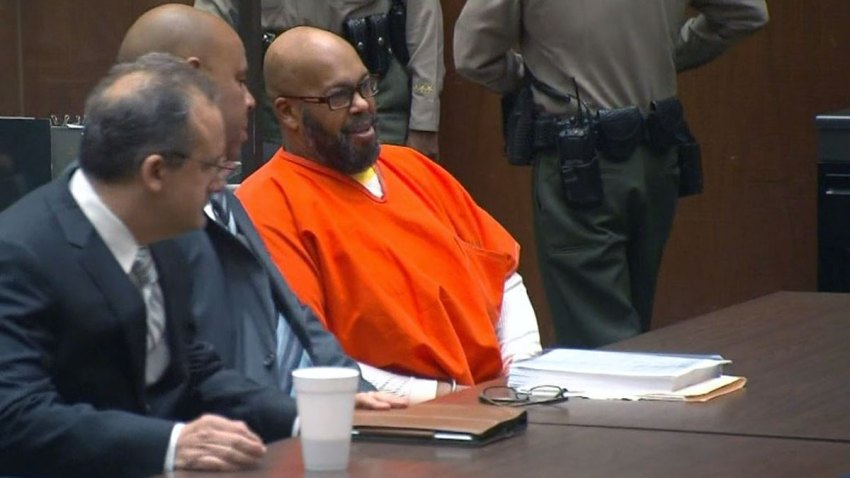 A July trial date was set for Death Row Records co-founder Marion "Suge" Knight, who faces murder and attempted murder charges in a fatal hit-and-run crash at a Southern California burger stand.
Knight, 50, returned to court Thursday for the first time since Superior Court Ronald Coen determined earlier this month that he should stand trial on murder, attempted murder and hit-and-run charges. Knight is accused of running over two men outside a Compton burger stand in January.
Knight's trial is scheduled to begin July 7, unless a motion is made to postpone. A request that Knight's bail of $10 million be lowered to $5 million was denied, but attorney Matt Fletcher made a surprise claim Thursday that boxer and Knight friend Floyd Mayweather Jr. could pay for his client's release if he wins Saturday's scheduled match against Manny Pacquiao in Las Vegas.
Local
Local news from across Southern California
Fletcher said he spoke with Mayweather Wednesday, but the boxer's representatives did not confirm Fletcher's claim.
Knight is due back in court May 29 when his attorney, who claimed Knight was fleeing an ambush, plans to argue that the case be dismissed.
Knight, whose health has become an issue in court, pleaded not guilty at a previous court appearance, but was required to appear for re-arraignment after Coen's trial ruling. He also pleaded not guilty Thursday.
Knight has been hospitalized five times after court hearings, but no health problems were reported at Thursday's appearance. Knight's most recent hospitalization occurred April 16 after he was ordered to trial in the death of 55-year-old Terry Carter, one of two men run over by Knight's pickup in late January.
The judge said Knight's actions appeared to be an attempt to murder, not an attempt to escape.
The second hit-and-run victim, producer Cle "Bone" Sloan, 51, testified during the preliminary phase, when the judge considered evidence such as the surveillance video of the fatal burger stand encounter and Sloan's interview with detectives. Sloan, serously injured in the crash, told detectives that he punched Knight through the truck's window before he was struck and knocked to the ground.
Sloan said Knight had been harassing the producers of a film called "Straight Outta Compton," including Dr. Dre, Ice Cube and director Gary Gray, since last summer when the film was shot. The movie is about the emergence of the rap group N.W.A.

On the day of the crash, filming of some promotional ads for the feature had been shut down at one location until Knight left the set because the producers were scared of the former rap mogul, Sloan said.

Knight's attorney said Sloan had been hired as security to "deal with Suge Knight" and suggested Sloan had a gun at the confrontation at Tam's burger stand -- an allegation Sloan denied. Fletcher also accused Sloan of reaching into Knight's truck and hitting the gear shift.
A Compton native and former football player, Knight co-founded Death Row Records, which in its prime in the early 1990s generated revenues of up to $100 million per year.