I'm generally against artsy chefs playing with food, especially if it means it will take longer to get to my plate. Nothing looks better to me than HOT food, right?
But every now and again I'll make an exception. The last time I did that was for The Bazaar restaurant, (see slideshow, left) which sacrificed nothing in the department of deliciousness to do crazy, whacked out things with food.
But check this out. Have you ever seen anything like this ... check out the face in that green cup on the video below. I mean, sure -- we've seen latte art, where the barista makes some sort of swirly, leafy thing on top of an espresso drink. (check out a cool video here)
Local
Local news from across Southern California
Mike Keen owns a coffee house in Colorado and he says, you'd bettter not be in a hurry when you go in there.
He'll stare you down a little, and then -- poof -- ! your face on a cup 'o Joe.
So the deal is, he's not just a barista. He's the owner of an art gallery next door, where his REAL work is. But, people keep coming in for his coffee, and no one can argue which cup is yours when he's done.
I wonder about the regulars. Does he get good at doing the same person's face over and over?
And there are others he says who don't even notice. They just put a lid on it, and go on their way. That has to hurt, just a little ...
The KUSA story says:
"This is just the thing I do at work to entertain myself," Keen said.

He shrugs at the realization that some customers ignore his art, popping on a travel lid or sipping away their portrait without a second thought.

"What are you going to do?" Keen said. "Go 'TAH-DAH!' whenever you put it out?"
I love that.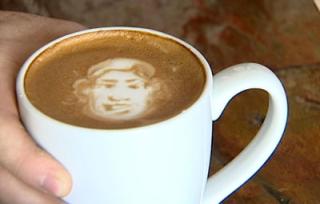 Today, admittedly, I am not clicking on much becauseI had to run down to have a cup of coffee (could you live without one, after watching that story?) and as I walked by the Tonight Show stage it hit me like a ton of bricks that even though Jay Leno and crew are coming back in the fall, and even though they WILL be on our lot, the hall I walk down every morning will be empty the next time I walk by (or worse, the stage will be being dismantled) and someone new (yet to be determined) will be moving in.
Jay will be over on Stage 11, which I drive by on my way out (last inhabited by Ellen, on the Johnny Carson Park side of our Burbank lot, appropriately, before she moved across the street to Warner Bros about a year ago.)
A drive-by isn't the same as seeing these guys every morning, having their coffee, moving stuff around (running me over with the carts) and trying to come up with at least one or two good jokes for me as I run by on my way from the newsroom, or Studio 10 where we do our broadcasts, on the way to the car or the commissary. They're right in the middle of all my running around, all morning long. As I ran by with my "purse-cam" today, they promised, as you can see in this video, to come visit and bring a little life to our soon-to-be quiet end of the lot.
But a lot WILL change.
I usually get to see the truck or band bus rolling in, and the guys helping the roadies unload the black boxes full of guitars and drumsets and amps for the musical act.
We always know what's coming up because we can hear them rehearsing if we're around in the late morning, and by 8 or 9 we can see what band's name is stenciled on the stuff piled up in the hallway outside the Tonight Show.
We know it's not the end of the line for the late night laughs with Jay moving to prime time (hey, it's late for me) and Conan coming to the Tonight Show, which will run out of a new studio up on Universal lot. But I'm really, really happy to know that it's not the end of my early morning laughs either.