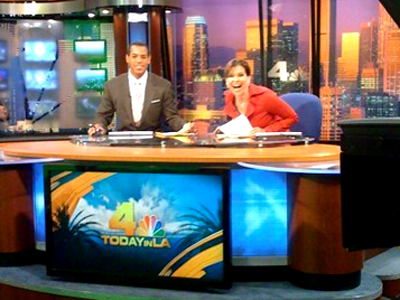 A week after a White House "Air Force One" 747 buzzed lower Manhattan and caused 9/11 flashback panic among New Yorkers, they're fighting back with Photoshop.
I posted a bit of the video of the ill-fated photo-op last week, right about the same time one New York Newspaper was hatching up a plan based on common sense.
Local
Local news from across Southern California
"Memo to the White House: Not only was flying a Presidential jet for a photo-op Monday over downtown Manhattan in bad taste – it was unnecessary. Anyone in the White House ever hear of Photoshop?"
So they posted a few pictures of Air Force One in various different locations, pointing out that while the Air Force One flyover cost taxpayers an estimated $300,000, the current tricked-out version of Photoshop is a bargain at $999.
And the photoshopped pictures are WAY better than the real thing! Check this one out:
This one was submitted by a reader, a friend of mine, into the photo contest that the Daily News cooked up. You can see Air Force One in various different locations and situations here, and some are pretty entertaining.
They offered a stock photo of Air Force One, and some free web-based software for people to play around with, and after just one day they had about 400 submissions, according to their followup story last week.
By now, though, that number is so high my computer freezes up every time I try to get far enough into the photostream to count.
Speaking of airplanes, did you see the story today about that respected (and rather buttoned-up looking) Russian artist who freaked out on a transatlantic United airlines flight? That must have been a long trip.
The Daily Mail story says Galina Rusinova is accused of "punching and kicking flight attendants and - at one point - 'snapping like a dog' while trying to bite a crew member's leg."
But my favorite part of the story (yes, even better than the part about how she drank the liquid soap) is where she's in the hospital after the plane lands:
According to court documents, after her arrest she spent the night at Eastern Maine Medical Center for observation and is said to have told FBI agents: 'It's typical of me. I sometimes do crazy things.'
Rusinova is apparently a well respected author, actress and writer in Britain,and well known on the charity circuit. She was here in LA to meet a man she met on the internet and was returning to London when the flight was diverted to Bangor, Maine.
I wonder how that date went?