They go by Twiggy Marley, Mount Crushmore and Minor Threat on the rink.
Outside of it, they are Marley Yanow, Gabriella Gulino and Abbigail Ackerly, three teenagers who form part of Los Anarchists, the newest junior roller derby team in Los Angeles.
"Derby names are important because it's like your alter ego," Ackerly said before practice in the remodeled warehouse that the team calls home. "Us as people and us as young derby women are two different things."
Comprised of 35 skaters who range from 5 to 17 years old, Los Anarchists recently became official members of the Junior Roller Derby Association.
Parents envisioned the team and brought together girls who played in different teams around L.A. Coach Michael Castro, who goes by Quadfather, had coached several of the girls before co-creating Los Anarchists. The parents were able to find sponsors and raise the money necessary to turn a warehouse in Sun Valley into a headquarters for the team. The place is fully equipped with a rink, lockers, skates, helmets and knee pads for the players.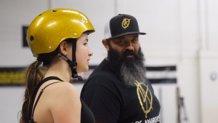 The girls' skating expertise varies. There are those who have years of experience and are members of the Junior Roller Derby Association's World Cup team, and there are newcomers just getting comfortable on their skates. At the core, they all share the same passion for roller derby.
Local
Get Los Angeles's latest local news on crime, entertainment, weather, schools, COVID, cost of living and more. Here's your go-to source for today's LA news.
"While I'm skating, as cliché as this sounds, I just feel free," Yanow said. "I just love the energy that's on the track."
Because roller derby is not as mainstream as other sports like basketball or soccer, each skater was introduced to it differently. Gulino's father introduced her to roller derby when he took her to a match for her 10th birthday, and Ackerly was encouraged by roller derby women to join the sport when she was struggling to stay on her feet at her local rink.
"I was instantly hooked," said Ackerly, who is also co-captain of Los Anarchists. "Even though I almost broke my tailbone in the first couple of practices, I still wanted to go back."
Injuries happen.
Yanow says she's had broken fingers, bloody lips, and countless falls on her tailbone. However, she says roller derby is not as violent as it is portrayed on television or in movies. In roller derby, you can't punch, you can't pull hair and you can't trip other skaters. These rules make the girls rely heavily on their skating skills, Castro says.
He says the game is sometimes compared to football or basketball because there is often bumping between players, but the rules are different.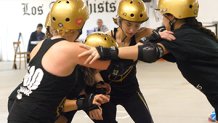 Roller derby is played on a flat, circular track with two teams skating counterclockwise in two-minute plays calls jams. Each team designates a jammer, who is in charge of scoring. To score, the jammer has to skate past the opposing team, who tries to block the jammer.
Since its inception, the team has been playing against teams that are ranked internationally. Los Anarchists is working to achieve the goal of competing in the Junior Roller Derby Championship, the ultimate competition for junior roller derby around the world.
"They're my sisters, they're my ride or dies," Ackerly said. "We go into battle together, we win together, we lose together, we cry together, we laugh together. This is what it's all about--the sense of strong family that we have."