The first bodyguard to enter Michael Jackson's bedroom on the day the superstar died testified Thursday that the singer's personal physician told him to remove Jackson's crying children from the room before handing him several vials that he wanted placed in a bag.
Alberto Alvarez, a key witness in the involuntary manslaughter case against Dr. Conrad Murray, testified for about four hours about what went on in the bedroom of the rented Holmby Hills mansion on June 25, 2009.
Alvarez, who called 911 to report an unresponsive Jackson, went to the mansion after receiving a call from Jackson's personal assistant. He looked through a set of glass doors at the front entrance and saw Murray, Jackson's daughter Paris and the Jackson nanny, Alvarez said Thursday.
Local
Local news from across Southern California
The Conrad Murray Trial: Juror Profiles, Case History, Who's Who | Testimony Timeline
Murray was on the second floor, looking down over a railing, he testified. Murray called for him to "come quick." It was at that point, Alvarez said, that he understood the serious nature of the situation. He entered Jackson's bedroom behind Murray and saw the King of Pop motionless on the bed with his palms up and wearing a condom catheter, Alvarez said.
"Paris screamed out, 'Daddy,'" Alvarez testified. "Dr. Conrad Murray said, 'Don't let them see their dad like this.'"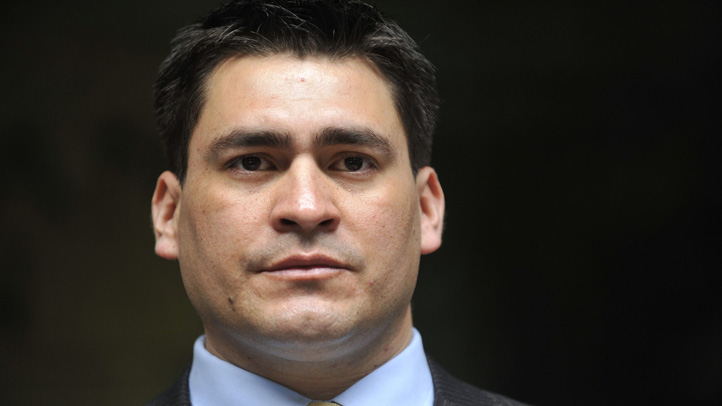 Alvarez said he walked the children toward the landing area outside the bedroom.
"Kids, don't worry we'll take care of it. Everything is going to be OK," Alvarez testified.
Alvarez claimed Murray was on his knees and ordered him to stash several vials of medicine in a bag before telling him to call 911. Alvarez provided the same testimony at a pre-trial hearing in January.
Murray grabbed the vials and said, "Here, put these in a bag," Alvarez testified. He held the bag open and Dr. Murray put the vials into it, then he was told to place that bag inside a larger brown bag, Alvarez said.
Alvarez admitted under cross-examination that on the day Jackson died, he did not tell police that Murray instructed him to remove the vials.
Also during cross-examination, Alvarez insisted that he was not confused about the sequence of events. In response to the defense's questions about the timeline, Alvarez said it wasn't possible that the vials were collected after paramedics arrived.
"Do you think you could have performed all these events in half a minute?" defense attorney Ed Chernoff said, using phone records to indicate how much time the defense claims passed during Alvarez's encounter with Murray.

"I'm very efficient," Alvarez responded.
Murray pointed to an IV stand and told Alvarez to grab the IV bag, Alvarez told the jury. The bottom of the bag contained a milky white substance, according to Alvarez.
"From my personal experience, I believed that Dr. Conrad Murray had the best of intentions for Mr. Jackson, so I didn't question his authority at the time," Alvarez said. "I thought they were getting packed to get ready to go to the hospital."
Deputy District Attorney David Walgren presented the witness with an IV bag that contained a bottle of propofol. Alvarez identified the bag and bottle as the items he saw in the bedroom.
Prosecutors then played a 911 call from Alvarez.
"I need an ambulance as soon as possible, sir," Alvarez told the operator. "We have a gentleman here that needs help. He's stopped breathing. He's not conscious, sir. He's on the bed."
The disptacher can be heard telling Alvarez to move Jackson to the floor.
"I was bracing myself to pick him up because I thought he was going to be very heavy," said Alvarez. "I picked him up and he was very light."
Two paramedics who responded to the home are also expected to testify this week.
Kai Chase, Jackson's personal chef took the stand after Alvarez on Thursday afternoon. She testified she witnessed Murray run halfway down the stairs to the kitchen where she was working on the day Jackson died.
"His energy was very nervous and he was shouting. 'Get help, get security, get Prince,'" Chase testified.

Chase said she then stopped what she was doing to go get Prince who was playing in another area of the house.
"Prince, go with Dr. Murray. There may be something wrong with your father," Chase said.
Chase testified she then went back to work.
The defense repeatedly questioned Chase about her decision to attend to Prince and not call security.
"He was the first person I saw in my direct eyesight," Chase responded.
Family members arrived at the courthouse earlier than usual Thursday morning as a crowd of Jackson fans and Murray supporters gathered at the entrance.
Early Thursday, Jackson's sister LaToya tweeted, "Been laying here N bed 4 the past hour thinkN about everything I've heard N court over the past 2 days, I'm SHOCKED by the lies!"
During Thursday's lunch break, she tweeted again. "On our lunch break! It's so hard 4 me 2 breath N court from holding back the tears. I don't know how my mother stays so strong."
Prosecutors will attempt to show that Murray delayed calling 911 and was more concerned about covering up evidence that he had administered propofol in the bedroom of the rented Holmby Hills mansion. Murray is accused of administering the drug, then failing to properly monitor Jackson's condition.

But defense attorneys argue that it was Jackson who self-administered the fatal dose when Murray was out of the bedroom.
Testimony Focuses on Events in Bedroom, Hospital

The scene in the bedroom became a focus of the trial Wednesday with testimony from Jackson's staff, including head of security Faheem Muhammed and personal assistant Michael Amir Williams. Muhammed was among the first staff members to arrive.

"Paris was on the ground, balled up, crying,'' Muhammed said Wednesday.

Prince "had a shocked look," he added as Jackson's parents and siblings listened in the courtroom.

Both described a chaotic environment inside and outside the Carolwood Drive mansion. Murray called Williams, who was at his residence in downtown LA, with an urgent request that he come to the mansion, Williams testified Wednesday.

"He said, 'Get here right away, Mr. Jackson had a bad reaction. Get somebody up here immediately,''' Williams said.
When asked whether Dr. Murray asked him to call 911, Williams said no.

Before and during his 30- to 40-minute drive to the mansion, Williams said he was in contact with guards and other people at the mansion, including Muhammed. After escorting the two children from the room, Muhammed returned to the second-floor bedroom, and that's when Murray asked whether anyone knew CPR, he testified.
Murray asked because he wanted assistance, not because he wasn't familiar with CPR, his attorneys said.
"When you're doing CPR the first thing you ask is, 'Does anyone else know CPR,' so they can assist," said defense attorney John Michael Flanagan. "Two-man CPR is much more efficient than one-man CPR. Dr. Murray had been doing CPR for more than 15 or 20 minutes, and it's a very fatiguing thing."
Muhammed and Williams later accompanied the children to the hospital, where they waited in a private room before being told of Jackson's death. Williams testified that Murray approached him in the hospital hallway and asked for a ride back to the mansion to retrieve a "cream" in Jackson's bedroom.

"We were making small talk about how horrible this is, and he said, 'There's some cream in Michael's room that he wouldn't want the world to know about,'" said Williams. "He requested that I give him a ride back to the house so the world wouldn't know about the cream."

Both Williams and Muhammed said they denied Murray's request for a ride in the wake of Jackson's death.
Defense attorneys wanted to know why Muhammed and Williams did not reveal details about the day Jackson died to police until two months later. Muhammed and Williams were asked whether they wanted to confer with Alvarez before their interview with detectives.
Murray, 58, faces up to four years in prison if convicted.
Follow NBCLA for the latest LA news, events and entertainment: Twitter: @NBCLA // Facebook: NBCLA