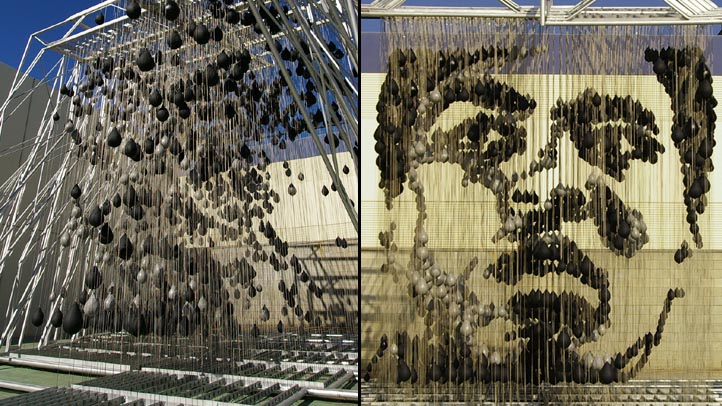 More than six miles of steel cable and 1,300 boxing speed bags were needed to create a monument to Muhammad Ali, set to debut next week at LA Live.
The installation, dubbed reALIze, was created by LA-based artist Michael Kalish. The 22-foot-high piece will be unveiled March 25, with Ali set to hang the final bag himself, Wired magazine reported.
Kalish says reALIze is more than three years in the making, and started after forming a relationship with the boxer's family. Ali's wife Lonnie first encountered Kalish after seeing a TV segment on the artist's pop-art license plate style.
Local
Local news from across Southern California
"Intrigued by his work, Mrs. Ali reached out to Kalish, which led to the artist creating a piece for the Ali family. That first sculpture led to a lasting relationship between Kalish and the Alis and ultimately inspired reALIze, an installation created to be as mythical as the boxer himself," according to a news release from Kalish.
The piece (from most angles) appears to be a hodgepodge of speed bags hanging at different heights. The payoff is from the front view. When the bags align, "it unexpectedly becomes a 2-D vision of the timeless face of Muhammad Ali," according to the artist.
"I love turning ordinary objects into extraordinary works of art," said Kalish. "This is an opportunity of a lifetime and I'm honored I could create this monument to pay homage to such an incredible man."
The installation will be on display at Nokia Plaza from March 25 through April 9. It will then travel around the country, with future locations to be announced.