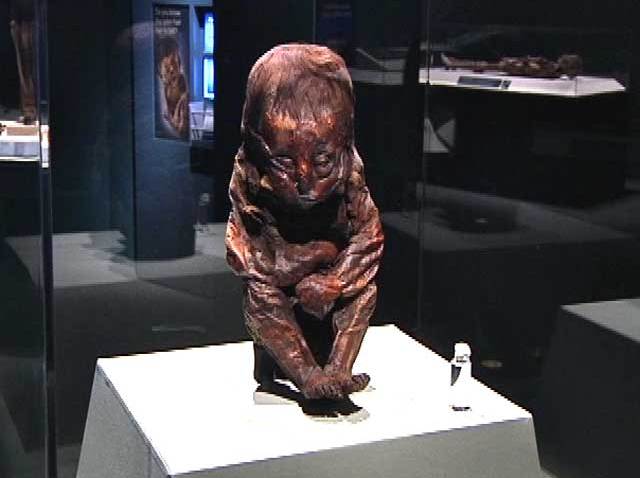 It's billed as the world's biggest traveling exhibit of carefully preserved humans.

"Mummies of the World" opened Thursday to the public at the California Science Center.

"We are excited to launch 'Mummies of the World' in Los Angeles, a city that is lauded for its commitment to arts and culture," said Marc Corwin, president of American Exhibitions Inc. "As witnessed in the phenomenal success of the King Tut Exhibit at the Los Angeles County Museum of Art just five years ago, Southern California residents have an appetite for antiquities, which give us a glittering glimpse into the past."

The mummies arrived at LAX las month in climate-controlled trucks. They came from more than 20 museums and seven countries.

The exhibit will reveal how the scientific study of mummies provides a window into the lives of ancient people from every region of the world.
"There's far more to mummification than the wrapped Egyptians people automatically think of," Heather Gill-Frerking, the exhibit's director of science and education, told the LA Times. "We wanted to present as many different types of mummies from as many different environments as we can."
More from the Times' report:
Local
Local news from across Southern California
She cites exhibit subjects such as the Detmold child, a Peruvian child mummy that dates back 6,420 years, or Baron von Holz, an 11th century nobleman discovered in the family crypt of his castle. Don't forget the entire 18th century Orlovits family, found in a church crypt in rural Hungary. The animal exhibits include a mummified howler monkey from Argentina and a Saharan desert lizard mummy. "We wanted to present the wide spectrum of mummification that exists, both natural and artificial," says Gill-Frerking, pointing to the fact that natural environments such as deserts, bogs and glaciers can preserve the dead just as effectively as the culturally and spiritually motivated embalming practices of humans.
The collection includes ancient mummies and artifacts from Asia, Oceania, South America and Europe as well as ancient Egypt. Some of the exhibit's humans, animals and artifacts date to about 6,000 years ago.

The exhibition also demonstrates how mummification is often a natural process; one which occurs in hot, dry desert sands of Peru or resulted from extreme acts of nature as in the eternal ice of the Italian Alps.

The display includes Capuchin Monk mummies on loan from the world- renowned Museum of The Catacombs of Palermo and Egyptian antiquity gallery second to none, with mummies and artifacts dating as far back as 6500 B.C., according to American Exhibitions.
The exhibit runs through November.
Follow NBCLA for the latest LA news, events and entertainment: Twitter: @NBCLA // Facebook: NBCLA
Copyright CNS - City News Service