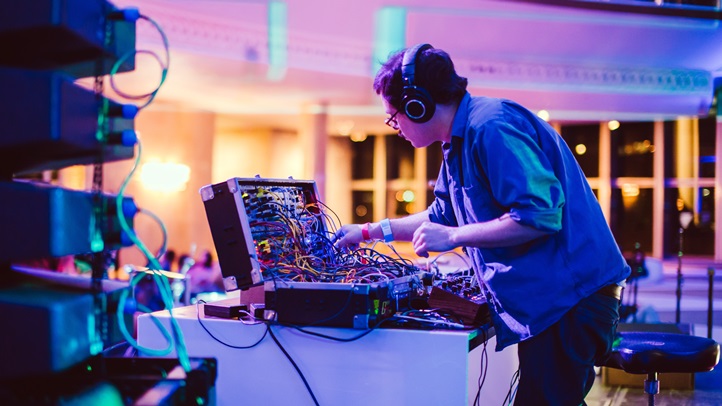 If there's someone living here in Southern California who has access to a working, Jules Verne-inspired time machine, they're being pretty darn quiet about, and with understandable reason.
People would be ringing their doorbell at all hours, trying to gain access to the device, the better to retake that one quiz in 9th grade, or send that apology letter, or simply see what a T. Rex looks like, for reals.
There won't be any actual time machines at the Music Center Plaza on Friday night, Sept. 23, but "Sleepless," the sometimes-on, always-late-into-the-night series will be gleefully afoot.
Local
Local news from across Southern California
The event "bends time and reality to create an otherworldly late night experience at the Music Center's Dorothy Chandler Pavilion" via a kaleidoscope of quirky goings-on. "Space-age records" from the '50s will play on the plaza during this go-around, as people peer into sky-pointing telescopes, while a "futuristic light tunnel" from artist Michael Ohsann will be the bridge between outdoors and indoors.
An '80s-reminiscent arcade, a pillow-laden, projection-cool lounge area, and a telephone booth "where guests can reach out and touch someone with live chats from the past and future" are also on the way-past-midnight docket.
Tickets are $20 ahead of the 11:30 p.m. to 3 a.m. happening, $30 there, and the scene can hum (aka get busy), as one might expect from an offbeat bash that takes a formal setting like Dorothy Chandler Pavilion and ups the general fizz and funkiness.
And, truly, whether you pay $20 or $30 to go, that's probably far less than passage aboard an actual time machine, which likely uses a combination of Pluto water and Alpha Centauri mist as some sort of fancy petrol.
Best do downtown for your weekend travel and save a bundle.
Copyright FREEL - NBC Local Media