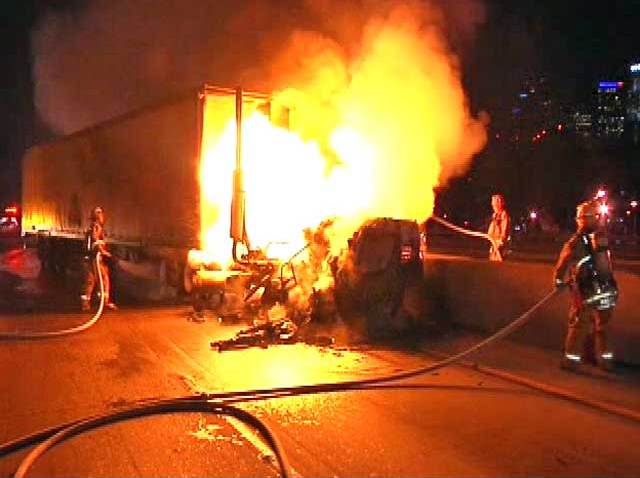 The northbound 101 Freeway was closed near downtown early Thursday after a fiery big-rig crash.

A big rig crashed and burned at about 4 a.m. on the northbound 101 Freeway, just north of the 101-110 freeway interchange. At about 8 a.m., the northbound 101 Freeway remained closed near Beaudry Avenue.
A Sigalert was issued at about 5:30 a.m. The road was cleared and reopened at about 10:30 a.m., but not before a major traffic tie-up as motorists headed out of downtown LA.
The northbound freeway transition road from the 110 Freeway was reopened at about 6 a.m. and traffic moved slowly past the burned big rig.
Local
Local news from across Southern California
The truck's trailer was loaded with clothes. Authorities said the big rig crashed into the center freeway divider and rolled.
The driver told NBCLA that he was cut off by another motorist.
"I hit the brake and the truck jack-knifed," said driver Ivan Flores. "I tried to control it but it hit the curb. It started on fire, and that's when I jumped out."
Fuel spilled and spread across multiple lanes, and some emergency responders were advised not to come on the freeway. At least one rescue squad had to bring its truck on the freeway at Glendale Boulevard and drive south on northbound lanes.
Text Alerts on Your Phone: Click here to sign up for breaking news and other text alerts from NBCLA.