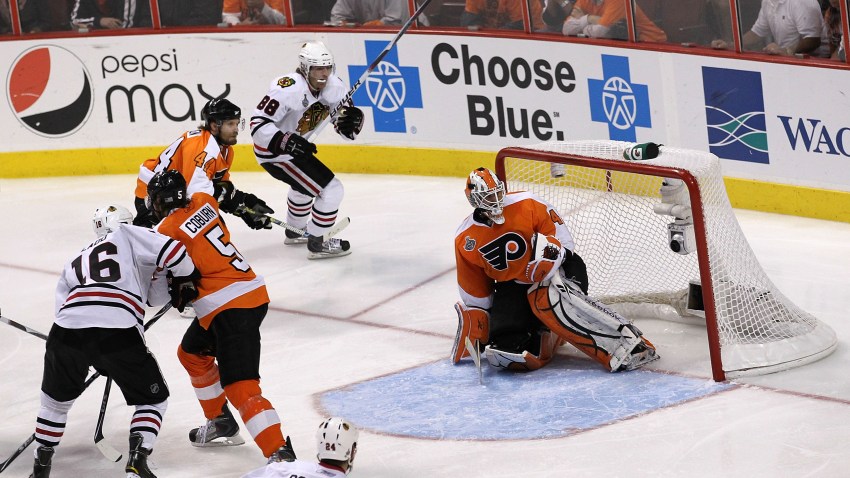 NBC4 Southern California presents The Wishing Tree at Universal CityWalk where we invite viewers to pay it forward by requesting a wish for someone deserving this holiday season. On Dec. 9, NBC4 began granting wishes live with Weathercaster Fritz Coleman weeknights during the 5 and 6 p.m. newscasts, and will continue to do so through Dec. 23.
Tune in to NBC4 and visit this page to watch the surprise wishes and to learn about each wish recipient.
Dec. 9: Edda Jara
Local
Local news from across Southern California
Edda Jara, a mother of five, has been struggling to pay the rent. Her daughter Diana made a wish to help mom so NBC4 has paid the family's rent for the next three months. The Jara family was also treated to a Universal CityWalk gift basket from select stores, dinner at Tony Roma's and Universal Studios Hollywood tickets for the entire family.
Dec. 10: Patty Munoz
Patty Munoz, a single mom of three kids, is struggling with cancer. Best friend Romy wished for Patty to have a family experience for her and her kids and put a smile on their faces so NBC4 provided the entire Munoz family with passes to Universal Studios Hollywood, a night at Sheraton Universal Hotel, $500 retail gift cards and a Universal CityWalk gift basket from several stores. The family also enjoyed a feast courtesy of Buca di Beppo.
Dec. 11: Sierra Lakes Elementary School
Sandra Gray, the principal of Sierra Lakes Elementary School made a wish for her school to receive books and supplies. NBC4 is granting her wish and providing Sierra Lakes Elementary with a $5,000 donation, $1,000 worth of books and learning materials, courtesy of Lakeshore Learning.
Dec. 14: Caipang Family
Evan Caipang made a wish to spend quality time with his daughters on the NBC4 Wishing Tree. He was laid off for a year and just recently got a job, but because of the difficulties his family has had, doesn't get to see his daughters enough. Fritz Coleman presented the Caipang family with tickets to see the Lakers game on New Year's Day in the NBC4 suite as well as a $500 gift card for holiday shopping. They also received tickets to Universal Studios Hollywood and a dinner catered by Tony Roma's Steakhouse.
Dec. 15: Toy for Tots
Fritz Coleman presented a check for $10,000 to "Toys for Tots" the week before Christmas.
Dec. 16: Apodaca Family
Margie Apodaca made a wish for her son, Rudy Mestaz, and his family to get new beds. She said it was something they needed, and Rudy had been generous when she needed financial support. They were presented with $2,500 credit thanks to Living Spaces for new beds, and a $500 gift card to Bed, Bath & Beyond to get new bedding.
Dec. 17: Arellano Family
Veronica Arellano made a wish for her sister-in-law Angie, a single mom of four kids whose oldest son is serving the US Navy Special Operations in Hawaii. Veronica thought she could use some help with basic necessities for her kids and some toys for the holidays.
NBC4 granted her wish and gave Angie $2,000, four tickets to Universal Studios, one night at the Sheraton Universal Hotel to include breakfast and parking, and one more very special moment: a special surprise video message from her son, Petty Officer 3rd Class Octavio Arellano played on the Jumbotron at CityWalk.
Dec. 18: Clements Family

Sa Brina Clements' best friend La Shawnda Moore made a wish for her friend and family to have clothes, shoes and toys for the kids. The family lost everything in a house fire.
NBC4 is granting her wish and providing the Clements Family with a $1,000 JCPenney gift card, a $500 Ralphs gift card, and a $500 Toys R Us gift card.
La Shawnda wishes for Sa Brina and her family clothes, shoes and toys. They lost everything when their house burned to the ground in August of this year. Sa Brina and Troy have 7-year old twin girls and a 6-year old boy. They were in a hotel for a little while and now a temporary rental until they can try to rebuild. They are in great need of clothes, shoes and toys for the children to enjoy since they are displaced this Christmas.
Dec. 21: Kramer Family
Brian Murphy made wish for sister's family to get help for the holidays since his two-year-old nephew Aiden is battling leukemia at Children's Hospital of Los Angeles. Ashley, Aiden's mother, had to quit her job to take care of her little boy. NBC4 surprised the family at the hospital's Healing Garden with a $250 gift certificate to Toys "R" Us, $250 for Ralph's grocery story, and – drum roll – $2,000 in cash to spend as the family chooses. Congratulations, Kramer family!
Dec. 22: Marissa Gomez
Janice Gomez made a wish for her daughter, Marissa, who is a senior at Cal State Long Beach. Marissa works two jobs, volunteers at a hospital and helped care for her mom when she battled breast cancer. NBC4 surprised the student with a check that would pay her last semester's tuition, and pay for her rent for five months. Congratulations, Gomez family!
Dec. 23: Maldonado Family
Ricky Maldonado served in the military for two tours in Iraq, making it difficult for him to buy his wife Yanel of eight years a wedding ring. He made a wish on NBC4's Wishing Tree for his wife to finally get the ring she deserves. NBC4 and Kevin Jeweler granted his wish. NBC4 also donated $2,500 to the Wounded Warrior Project.