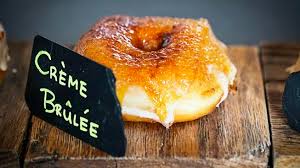 What to Know
February 2019 opening
Opening day giveaway: One guest will win a year's supply of doughnuts
2309 Main Street, Santa Monica
When Astro Doughnuts & Fried Chicken announced last summer that it would open its next (and second) Southern California location in Santa Monica, fans of its famous crème brûlée offering had to feel a zing of anticipation.
After all, the famous doughnuttery, which began in Washington D.C. and found fresh fandom in DTLA in 2017, has become known for its nummy and offbeat offerings.
Those offerings include the artisanal doughnut-maker's best-known treat, a crackle-topped fantasy of cream, dough, and sugar, a treat that boasts the gooiest of guts of any doughnut on this planet or any other.
Local
Local news from across Southern California
That's right, we said it: Gooiest. Of. Guts. Bite into a crème brûlée and see.
Now that gooey goodness will delight visitors to Main Street in Santa Monica, for the newest Astro Doughnuts is set to debut around the second week of February 2019.
Your favorites'll be in the house, and if you visit on opening day, you just may win a full year of doughnuts, which feels like a wish coming true that you didn't even know you had.
One other bit of news for this newest Astro outpost? It is expected to add "... the city's first CBD doughnut to (the) arsenal of pillowy treats."
Nope, CBD doesn't stand for "crème brûlée doughnut," just to be clear.
For more Astro-tastic announcements, such as the firm-and-happening opening day for the Santa Monica shop, do keep an eye on the boutique doughnut company's social pages.
Copyright FREEL - NBC Local Media