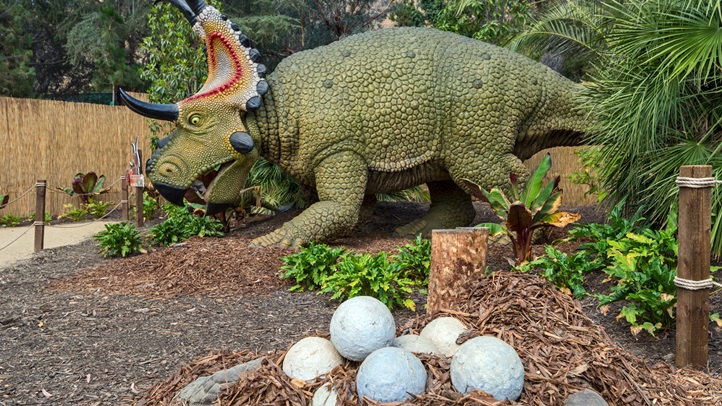 An indisputable fact of life on this planet is nothing is cooler than a dinosaur, except perhaps one thing, and that's a dinosaur egg.
Because as studied as we may be in the history of the prehistoric beasts, in what they ate and how they lived, it can still boggle the noggin to ponder how a 40-ton adult dinosaur began its journey inside a somewhat wee shell.
If you've been by the Los Angeles Zoo since the middle of April, you've likely noticed a cadre of scaly, big-of-teeth, animatronic creatures holding captivating court. They're all a part of "Dinosaurs: Unextinct at the LA Zoo," and while the Suchomimus and Brachiosaurus surely have their fans, its the Diabloceratops that's been attracting a lot of attention.
Local
Local news from across Southern California
Why? Because she stands near a nest of five eggs. But the eggs have recently opened, as eggs traditionally do, and something special has arrived.
"Nesting since April 15 when the exhibit opened to the public, the newborns — three girls and two boys — 'hatched' beside their ferociously protective mom, who is one of 17 animatronic dinosaurs in the exhibit — including the little ones — brought to life with electronic 'brains.'"
Precious prehistoric stuff, bound to summon "awws" from anyone in the vicinity. (Nope, baby Diabloceratops don't wear diapers nor do they play with rattles, but they will boast a series of impressive horns as well as an iconic head-topping "frill.")
While the exhibit's animatron dinos are the definition of nifty, there are other happenings around, including a fossil dig and a Stegosaurus robot.
Not just any robot, mind you, but one that visitors can control. (How many times we've wished for our own Stegosaurus robot in our day-to-day lives. How. Many. Times.)
How to see this nursery-sweet Diabloceratops scene, and all of the dinos? With your LA Zoo admission plus five bucks.
Just get to the Griffith Park animal park — where real, modern animals live, too, of course — by Oct. 31, 2016, when the dinosaurs are set to scamper away, baby dinos included.
Copyright FREEL - NBC Local Media