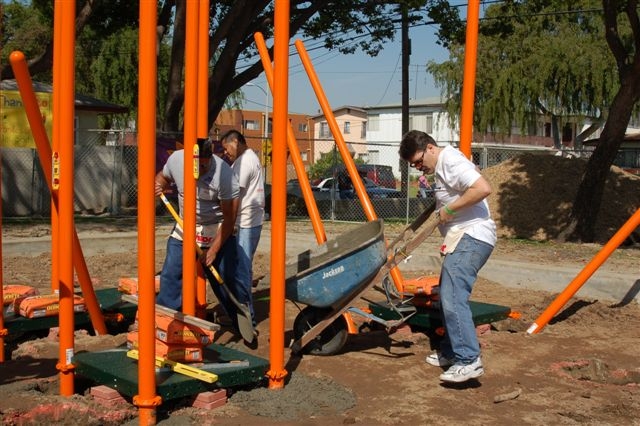 Not so long ago, many parks across Inglewood were falling apart. Swings and slides were broken, bathrooms were in disrepair and there wasn't enough play space to go around.
Now that's changing, thanks to an infusion of state funds and an ongoing public-private partnership that has seen the completion of three new playgrounds, with three more in the works.

"No matter where you are, no matter what you do, there's always a need for open space where you can go play, just sit and read a book, contemplate the sky, whatever," said Anne Cheek La Rose, an Inglewood resident and community liaison for the city.
But the city still falls short of providing residents with adequate space for outdoor recreation, said Sabrina Barnes, director of Inglewood's Parks, Recreation and Community Services.
Local
Local news from across Southern California
The city's recommended open space allotment is four acres per thousand residents, but Inglewood provides just a quarter of that, according to a 2009 audit.
A network of 10 parks and three recreational facilities provide athletic fields, playhouses and an open-air amphitheater, but many of the city's open space facilities don't meet California health and safety requirements, such as on-site refrigerators and microwaves needed to support the state-funded free summer lunch park programs.
"The expansion of the city's park system is not occurring as quickly as we would like," Barnes said.
Each year the city receives funding through Proposition 40, the $2.6 billion California Clean Water, Clean Air, Safe Neighborhood Parks and Coastal Protection Act. In recent years the city has developed a partnership with KaBOOM!, a Disney-funded nonprofit with a mission statement to "build a playground within walking distance of every child in America."

KaBOOM! pairs cities like Inglewood with corporate sponsors like Home Depot and Kool-Aid to erect playgrounds—designed and built by residents themselves. When "build day" arrives, hundreds of adult and child volunteers help out, combining carpentry, assembly line and other hands-on skills to install slides, monkey bars and tether ball poles.
"The actual build day is always extremely gratifying as the volunteers realize the fruits of their labor," said Barnes, who keeps an eye on underused land in Inglewood for new potential outdoor programs. "This project not only helps us improve our facilities but also creates a great sense of community. Inglewood residents have been involved in the planning of this project since day one."
Inglewood's most recent playground-building event took place at Queen Park, a which sits in a residential neighborhood across from the miles-wide Inglewood Park Cemetery and a few blocks north of the popular entertainment venue, The Forum. Queen Park now includes a brand new playground as well as a community garden, an idea planted by residents who hope to engage children in the process of growing their own healthy food.
"We're putting gardens into green space where play exists," said D'Artagnan Scorza, an Inglewood resident. "We're focused on developing healthy spaces and gardens so people learn how to produce their own food."
An early sign of success: participating in park builds inspired La Rose to plant peach and apple trees in her yard.
Scorza, who founded Inglewood's Social Justice Learning Institute to utilize unused open spaces for community gardens, is working with the city to include gardens in all of the new park projects.
Three more playground-builds are planned for North Park, Darby Park and Siminski Park by September. Queen Park will serve as a test for how to integrate gardening with the age-old cure for many childhood woes: play.
"Animals do it, fish do it, and there is every reason to believe that it serves important evolutionary functions in humans too," said Roberta Michnick Golinkoff, a University of Delaware education professor.
"Play is important for sleep, for warding off obesity and that the lessons learned on the playground about getting along with others are crucial life skills."