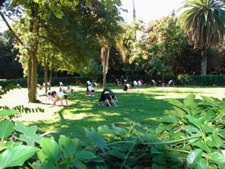 Sometimes battles over space in the city drag on so long the fights completely fall off the radar. Such is the case with the plan to the pave over a small part of Runyon Canyon and create an 80-space parking lot on a 0.6-acre parcel near Fuller and Franklin avenues.
Last we heard, a group called New Friends of Runyon Canyon had filed appeals to stop construction on the lot (apparently needed to service all those hikers) and web sites like Save Runyon Canyon had been launched.
Among other things, locals were worried about an influx of visitors, telling stories of people vandalizing cars and acting belligerently in the streets, according to an older Daily News story.
Local
Local news from across Southern California
Fast forward to this week: An email sent out from Friends of Runyon Canyon states the lot idea is dead.
That group is dancing in the streets. But Carolyn Ramsay, spokesperson for City Councilman Tom LaBonge, clarifies that declaration. In fact, the lot idea in Runyon is officially "on hold" while the city explores other options, including ideas for lots in the neighborhood (but not in Runyon), she tells us. [Image of lawn yoga and site of planned lot. [Via Save Runyon Canyon]
Victory! Runyon Canyon Parking Lot Cancelled
~~~~~~~~~~~~~~~~~~~~~~~~~~~~~~~~~~~~~~~~~~~~~~~~~~~~~~~~~~~~~~~~~~~~~~~~~~~~~~~~
Dear Yoga and Runyon Canyon Fans,
We have fantastic news: Last night, Tom LaBonge, city council representative for District 4, made it official: The City of LA will comply with the wishes of the citizens: lower Runyon Canyon will not be paved for a parking lot.
In a speech last night to the Outpost Estates Homeowners Association, Mr. LaBonge announced that the park was vastly overused, and that adding a parking lot would not solve the many problems brought on by so many people and dogs.
Instead, the City of LA is pursuing one of the ideas first introduced by the Runyon Canyon Park Advisory Board: Purchase the lot originally used for a tunnel entrance for the subway, and build a lot there. As you may remember, the Runyon Canyon Park
Advisory Board was formed in 2003 to come up with solution for Runyon Canyon Park. With volunteer members representing a wide range of interests, the board was immediately abolished in 2004 when it passed a resolution against a parking lot.
From 2004 to today, a group of dedicated individuals has been fighting the parking lot, donating their time and money to the cause. It all seemed hopeless - until now.
Even with this victory, we need to monitor the situation. Nothing is over until it's really over. While this appears to be a final decision, the final decision was already announced once before....and that obviously changed.
Many thanks to all of you who participated in this saga. This has proven Margaret Mead's famous quote all over again: "Never doubt that a small group of thoughtful, committed citizens can change the world. Indeed, it is the only thing that ever has."
Friends of Runyon Canyon
Copyright CURBL