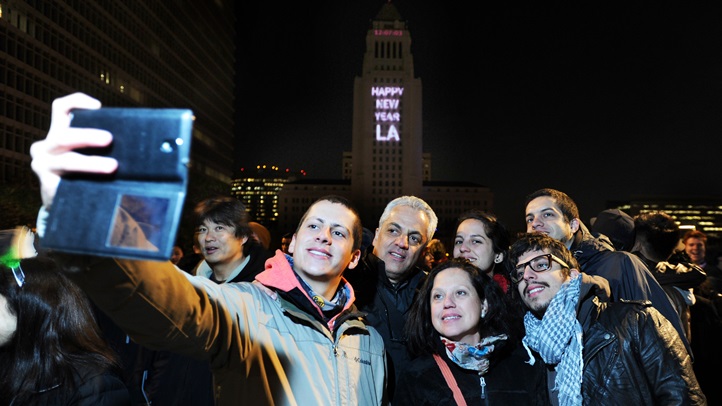 New Year's Eve arrives just after the launch of wintertime, at least 'round these parts, but that doesn't stop revelers from pulling on a parka, and a pair of woolly socks, and heading outside to welcome a fresh start.
In fact, many U.S. cities are known for their alfresco, under-the-sky celebrations on Dec. 31, despite frostier conditions. Call it a great way to bring a whole caboodle of locals together, for free, for some pay-nothing woo-hoo-ing and sweet community spirit.
Grand Park and The Music Center are a part of this alfresco American tradition, and have been for nearly a half decade. And those woolly socks and knit caps'll come in handy on Saturday, Dec. 31, when N.Y.E.L.A. returns to the 90-acre expanse for some free-to-get-in, new-year-welcoming, photo-booth-enjoying, DJ-listening fun-having.
Local
Local news from across Southern California
That's right, there's a caboodle of music lined up for the fourth annual family-ready party, and over two dozen food vendors, too. It's an "alcohol-free" to-do, do note, and while rain wear is okay (galoshes and slickers and the like), you'll need to leave the umbrella at home.
"Angelenos aren't afraid of some spritz! The show must go on!" trumpets the event's online HQ.
And heading out into the damp will definitely be on the minds of many Southern Californians, given that N.Y.E.L.A. is billed as "the West Coast's flagship New Year's Eve celebration."
The big highlight of the evening that keeps people waiting for midnight? The dramatic "multi-dimensional animated countdown" on the front of City Hall.
If you've heard the word "projections" used when friends describe this celebration, that's because N.Y.E.L.A. has become well-known for its elaborate and fanciful light show, one that deftly uses City Hall as a colorful canvas.
The flows and beats begin on the trio of stages — Countdown Stage, Get Down Stage, and Funk Town Stage — at 8 o'clock, and four entrances to the party will be erected (so check the map to find the easiest one for you to access).
True, most cozier New Year's Eve parties tend to flourish inside buildings, at least where it is wintertime. But the biggest bashes, the free come-one-come-alls, are often sprawl-tastic outdoor gatherings, with some splashy sounds and a crowd-pleaser of a light show or visual element.
That's N.Y.E.L.A., our downtown end-of-the-year meet-up that has truly become a West Coast party powerhouse in just four years.
Rain and shine just might be the rule for this year's send-off celebration. Happy 2017!
Copyright FREEL - NBC Local Media