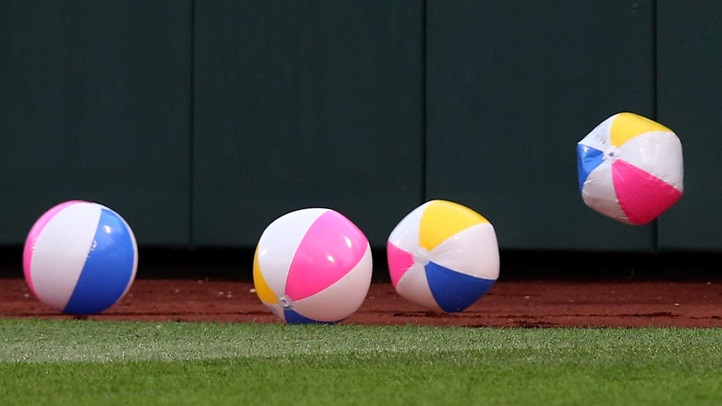 'Tis the season for unusual globular objects to slide down various poles as a nearby clock chimes 12 times.
That unusual globe-shaped item just might be a glittery ball in New York City's Time Square, or a mega peach in Atlanta, or some other orb-like thing that represents the revelers' hometown or the spirit of the place where the party happens to be.
With that in mind, what orb-like object best represents Southern California? The sun? That can't be dropped at midnight on Dec. 31, what with existing in its fiery state millions of miles from our planet.
Local
Local news from across Southern California
Oranges? Well, no, as they're busily growing plumper at the moment, the better to be ripe for picking.
But a beach ball works. And if one beach ball works, you better believe 3,000 beach balls are even better, hoo boy. Yes sirree.
And that is exactly what will drop, in Costa Mesa, at Winter Fest, on Saturday, Dec. 31.
Let's break it down, though, numbers-wise, before you head for the OC Fair & Event Center. Some 500 beach balls are set for the 9 p.m., midnight-on-the-east-coast drop, while 2,500 beach balls will take the terrific tumble at midnight here in California.
There are other happenings throughout the party-riffic night, including nearly a dozen cover bands, a hypnotism presentation, and dueling pianos, which have a way of revving up revelers in a way that no other dueling instruments can.
Fireworks and the faux snow that's become a soapy-sweet symbol of the Southern California holiday season round out the "look up in wonder" goings-on at Winter Fest.
Tickets, times, parking, and all that essential stuff? Here.
Kicking off 2017 among hundreds (or thousands) of beach balls?
Call it a whimsical way to promise yourself more levity, more outdoor time, more sand, and more sunshine in the 365 days to come. For if you find yourself holding a beach ball in the first few seconds of 2017, well, you've practically already set your positive intention for the year.
Copyright FREEL - NBC Local Media