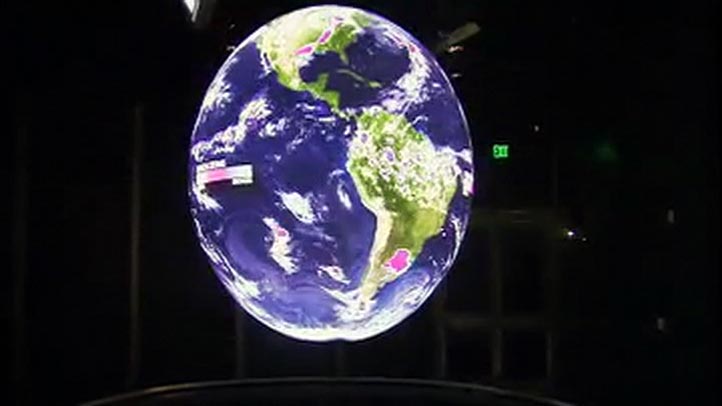 Step into the gallery inside the Aquarium of the Pacific and simply seeing an empty sphere is impressive. You might think you're about to go where no man has gone before.
Then the lights dim.
The sphere lights up with an amber glow.
Local
Local news from across Southern California
The speakers boom: "Welcome."
You've just entered the latest in oceanic education technology -- "Science on a Sphere." The orb has a six-foot diameter and uses computers and video projectors to create 3-D animated images. It's the first of its kind at an aquarium anywhere in the world.
"It's a new way to learn," said Frank Niepold of the National Oceanic and Atmospheric Administration (NOAA).The NOAA is where we get weather information like El Nino, the Midwest tornados, tsunamis and so much more. This exhibit is a way to help build on the NOAA's educational mission.
So far there are two shows you'll watch on the sphere, with the help of flat-screen monitors above. The first show educates families about rising sea levels and how our use of fossil fuels changes the atmosphere and thus the oceans. The second discusses the Los Angeles and Long Beach Ports -- together, they make the 5th largest port area in the world.
The exhibit is free with paid admission to the Aquarium of the Pacific and opens officially to the public Saturday.