Officers are searching a neighborhood west of downtown Los Angeles for a gunman who ambushed two detectives as they arrived Tuesday morning at a Los Angeles Police Department station in what the police chief called an "attempt to assassinate" members of the department.
The Mid-City area search for the gunman forced closures along a half-mile stretch of La Brea Avenue and one mile of Venice Boulevard. Businesses in the 25-square block around the Wilshire Community Police Station (map) remain closed and a shelter-in-place order was issued for residents.
Several SWAT units, using armored vehicles and at least one canine unit, were focusing on an apartment complex in the Mid-City area, located about five miles west of downtown Los Angeles.
Residents told NBC4 Southern California they called police to report suspicious activity at the Buckingham Road (map) property. The residents told NBC4 Southern California that a man who approached them as they were leaving for work was "excited" and asked to use a cell phone.
Local
Local news from across Southern California
Police have not confirmed the residents' account.
The manhunt began after the detectives were ambushed at about 4:30 a.m. by the gunman at the driveway entrance to Wilshire Community Police Station. Aerial video showed the detectives' white sedan with bullet holes and shattered windows in front of the entrance gate, which is operated by swiping a key card.
"When they swiped their key card, somebody just started shooting at them from behind," said LAPD Commander Andy Smith. "These officers were ambushed as they were pulling into the station.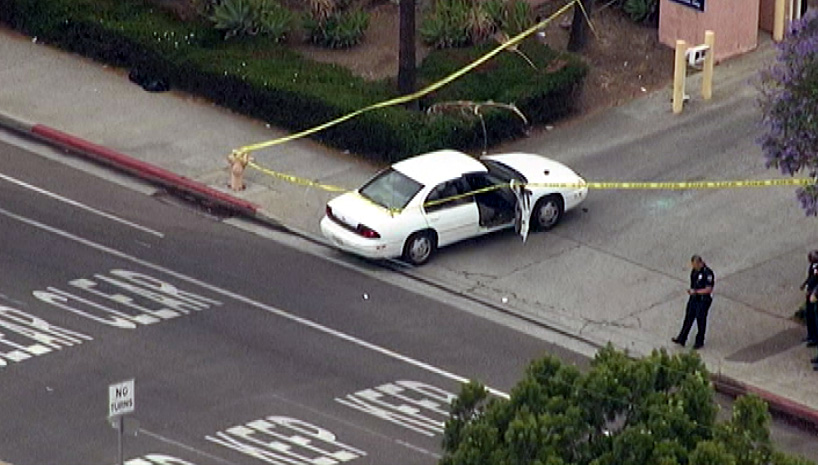 "We believe whoever did this knows this is a police station and that anybody entering that lot is a police employee."
The detectives returned fire and other officers from inside the Wilshire Community Police Station responded to the driveway (pictured, right). An LAPD helicopter and canine units joined the manhunt for the shooter and snipers were positioned atop the Wilshire Community Police Station.
Law enforcement officials told NBC4 Southern California one detective suffered a graze wound to the back of the head. The second detective suffered a hand injury. Both detectives — members of an undercover burglary task force — were treated and released from a hospital before they returned to the LAPD command post to help identify the gunman.
"This was a blatant attempt to assassinate two of the people who protect this community," said LAPD Chief Charlie Beck.
One detective has been with the department for 20 years, the other for 11 years, Smith said. Smith said their injuries might have been caused by a bullet, bullet fragment or shattered glass from the vehicle.
Police do not have a detailed description of the gunman, described only as a black male with facial hair, age 30 to 35 wearing black clothes, Smith said. Police detained at least three people for questioning after the shooting, but those individuals were not arrested.
Venice Boulevard was closed between Redondo Boulevard and West Boulevard, and La Brea Avenue was shut down between Washington and Pico boulevards. The closure area was reduced later Tuesday morning to include Venice Boulevard to Washington Boulevard, and West Boulevard to Redondo Boulevard.
The closures are expected to remain in effect until "noon, at a minimum," said Smith.
The neighborhood lockdown included the unusual sight of an empty Venice Boulevard at mid-day — a time when it would usually be busting with vehicles and pedestrians.
"I parked my car three blocks away, and I'm just trying to walk it to see if I can get home," said resident Walter Lemus.

Smith was asked whether he thought the gunman was a rogue officer with motives similar to those of ex-LAPD officer Christopher Dorner, who targeted law enforcement agents as part of a revenge plot. Smith said that was an extremely unlikely possibility.
More Southern California Stories: