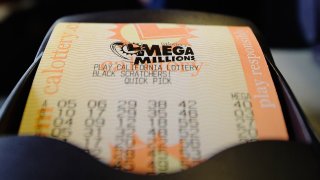 One lucky person who frequents a CVS on La Brea Avenue has a winning ticket worth nearly $8 million dollars, the California Lottery announced on Twitter on Saturday.
"One lucky #CALottery player won more than $7 million tonight on #MegaMillions," they tweeted out Friday night.
The winning ticket, sold at the CVS at 303 South La Brea Avenue, is worth $7,727,088.
It matched all five of the winning Mega Millions numbers, but missed the Mega number. The five winning numbers were 20, 36, 53, 56 and 69.
"The lucky winner didn't even have to hit the #jackpot to win millions!" they said Saturday.
Had the ticket included the Mega number of 16, the winner would have bagged $273,000,000.
A number of other California Lottery players won smaller amounts of money by guessing some, but not all, of the numbers in Friday's draw. In all, California saw 80,595 lottery winning tickets sold statewide.
"We won't know who any of the winners are until they come forward to claim their prize," the California lottery said on Twitter.
To learn how to claim a lottery prize, click here.