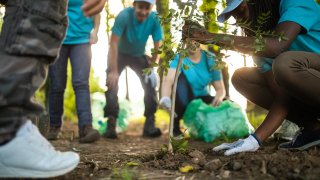 Did you adopt a plant during the pandemic? Did it tragically dry up and die in a couple weeks? Yeah, so did mine.
During the course of the pandemic, many of us picked up new hobbies or pastimes. For some, this may have included plants.
Becoming a plant parent isn't easy. It takes a lot of time, effort, and a ton of patience.
Although it won't take much searching to find a beginner's guide or a video tutorial on how to care for our newly adopted plants, trees and flowers, taking care of a plant or tree can be overwhelming.
In partnership with LA's Department of Water and Power, City Plants is an organization that offers a wide variety of plants and trees to help "grow a greener future for Los Angeles by engaging Angelenos to plant and care for trees throughout the City."
The organization often holds adoption events and a series of programs to help plant trees around the city.
Michelle Moro, a resident of South Central LA, says she has picked up quite a few trees from City Plants including an apple tree that has been giving her family apples for the past two years.
Since then, Moro says she has also gotten a peach, pear, olive and eastern redbud tree.
"At City Plants, we envision a Los Angeles in which people in every neighborhood have equal access to trees and their benefits: clean air, energy efficiency, better health, cooling shade, and friendlier, more vibrant communities," the website states.
Trees are an essential part of our neighborhoods, shining light on the topic of tree equity as many low income cities do not have the benefit of tree lined streets.
"Due to decades of redlining and other discriminatory policies, trees are often sparse in neighborhoods with more low-income families and people of color," according to American Forests.
Alongside half a dozen non-profit partners and several LA City departments, the organization helps plant and distribute 20,000 trees a year to help transform streets and neighborhoods, according to their site.
Local
Get Los Angeles's latest local news on crime, entertainment, weather, schools, COVID, cost of living and more. Here's your go-to source for today's LA news.
"At City Plants, we believe that every single Angelino deserves access to trees and their benefits," said Rachel O'Leary, executive director of City Plants. "During the current climate crisis, trees are life saving, critical city infrastructure, protecting frontline communities from extreme heat."
The urban tree canopy is inequitably distributed in LA, leaving historically disinvested and marginalized communities at risk, O'Leary explains.
"It's imperative that we continue to leverage resources and build community-centered partnerships to plant trees where they are needed most," O'Leary said.
In order to someday achieve full Tree Equity, "we need to plant and grow 522 million trees across urbanized America, according to our 2021 Tree Equity Score," according to American Forests.
City Plants joined several organizations in a tree planting event on Saturday for National Arbor Day.
Anyone interested in a free tree can visit one of City Plants' many adoption events and learn how to get involved with their many programs like their Tree Ambassador program.
Moro says she took an interest in plants because of her mother.
"She's the green thumb of the house and is currently teaching me how to grow and maintain healthy plants. We have a collection of fruits, herbs and spices in our backyard," Moro said.
In order to get a tree from one of City Plants' adoption events, or apply online for their yard tree delivery program.