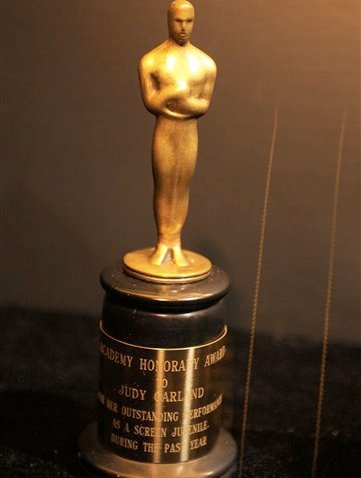 Nominations will be announced Tuesday for the 82nd Academy Awards, but even with an expanded field of 10 nominees in the best- picture category, the race for best picture will likely come down to a duel between box-office smash ``Avatar'' and Iraq war drama ``The Hurt Locker.''
The high-flying relationship tale ``Up in the Air'' and director Quentin Tarantino's World War II yarn ``Inglourious Basterds'' are also likely to wind up on the best picture list.
\
The gripping abused-teen drama ``Precious: Based on the Novel `Push' by Sapphire'' is also a likely contender. With the expanded field of nominees, films such as ``An Education,'' ``Julie & Julia,'' ``The Blind Side,''
``Invictus'' and the animated ``Up'' all have shot at earning spots on the list.
``The Hurt Locker,'' director Kathryn Bigelow's portrayal of an elite bomb-defusing unit in Iraq, won the top prize from the Producers Guild of America -- an honor that traditionally foreshadows a best-picture win on Oscar night.
Bigelow also was named best director by the Directors Guild of America.
Local
Local news from across Southern California
James Cameron's fantasy ``Avatar'' was named best drama film at the Golden Globe Awards, and ``Inglourious Basterds'' was named best ensemble cast by the Screen Actors Guild, giving them both momentum heading into Oscar season.
Bigelow's win at the DGA Awards also makes her the likely pick for best director. The winner of the DGA feature film award has gone on to win the Academy Award for best director all but six times since 1948.
Cameron -- who is Bigelow's ex-husband -- will also likely be nominated in the category, along with Lee Daniels for ``Precious,'' Jason Reitman for ``Up in the Air'' and Tarantino for ``Inglourious Basterds.''
Jeff Bridges, whose spot-on performance as an aging, alcoholic country singer in ``Crazy Heart'' has already won him best actor prizes at the Golden Globe and SAG awards, is the clear front-runner to take home the Oscar.
George Clooney will likely be nominated for his portrayal of an oft-traveling and relationship-challenged businessman in ``Up in the Air.''
Jeremy Renner is also a good bet for his turn as the leader of the bomb squad in ``The Hurt Locker,'' while Morgan Freeman should earn yet another Oscar nominations for his role as Nelson Mandela in the Clint Eastwood-directed ``Invictus.''
Golden Globe and SAG winner Sandra Bullock is a heavy favorite in the best-actress category for her portrayal of a strong-willed southern housewife who takes in a black teenager and helps foster his football career in ``The Blind Side.''
She will likely face another challenge from perennial awards- season favorite Meryl Streep, who turned in a stellar performance as cooking legend Julia Child in ``Julie & Julia.''
Newcomer Gabourey Sidibe is also a likely nominee for her role as the bused teen in ``Precious.'' Young actress Carey Mulligan, who played a schoolgirl being courted by an older suitor in ``An Education,'' should also land on the list.
Mo'Nique (``Precious'') and Christoph Waltz (``Inglourious Basterds'') are strong favorites to win the supporting acting awards, with both having already claimed Golden Globe and SAG Awards.
The nominations will be announced at 5:30 a.m. by actress Anne Hathaway and Academy of Motion Picture Arts and Sciences President Tom Sherak at the Academy's Samuel Goldwyn Theater in Beverly Hills.
The Oscars will be presented March 7 at the Kodak Theatre in Hollywood, with Alec Baldwin and Steve Martin -- who co-starred in the romantic comedy ``It's Complicated'' -- co-hosting the ceremony.

Copyright CNS - City News Service