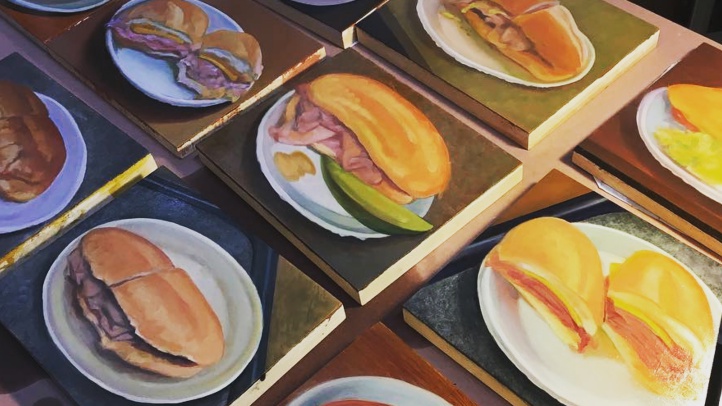 Ever built a sandwich, using just the right bread, and some savory slices of meat, and perhaps a layer of cheese, and anything else you like to include within your towering, hand-holdable, hunger-abating creation?
You likely paused and summed it up thusly, for anyone in earshot: "This sandwich is a work of art."
Local
Local news from across Southern California
But rarely does the sandwich, as an idea, or specific sandwiches, receive their artistic, gallery-cool due.
That's about to change for one of the most celebrated sandwiches in town, and beyond town, too, for one painting-filled week of Philippe's-based beauty.
That's right, it is an art show at a restaurant, Philippe the Original, to be exact, which will celebrate its 110th anniversary on Monday, Oct. 1 with an afternoon of revelry, games, entertainment, raffle, and those famous French Dips, priced at $1.10 for the occasion.
And a centerpiece of the sandwich-y celebration? The "Sandwiches & Carvers" exhibit, a free-to-see show on the historic eatery's second floor.
Artist Gregg Gibbs, the artist behind the paint brush, created 70 oil-on-panel paintings "... of sandwiches sides, and pies, and with portraits of the 'carvers' who serve them such as 34-year veteran carver, Rosina."
It's a moving way to spotlight the dedicated and talented people who've worked at Philippe the Original for decades, as well as their culinary creations, sandwiches that have kept Angelenos coming back to the corner-facing restaurant at Alameda and Ord Streets, near Union Station.
Look also, once you're visiting the second floor, for tributes to food writer Jonathan Gold, as well as the Earl of Sandwich.
But like you wouldn't wait long to eat the French Dip you just ordered, once it is placed on the tray in front of you, you shouldn't wait too long to see the "Sandwiches & Carvers" art show: It will be on view at Philippe's from Saturday, Sept. 29 through Saturday, Oct. 6.
The opening reception for the appetite-stoking show is on Sept. 29 from 6 to 9 in the evening.
Copyright FREEL - NBC Local Media