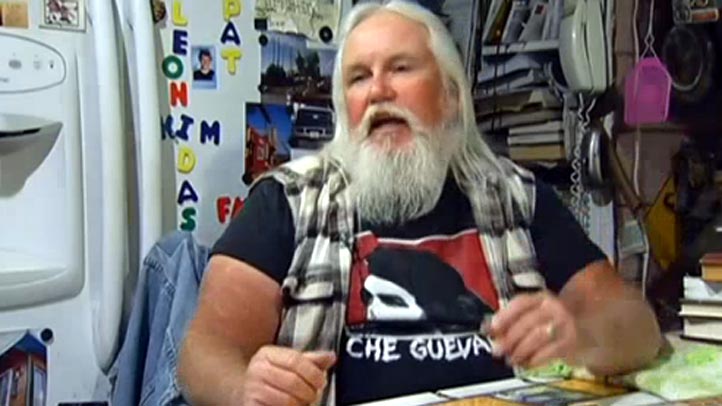 The man behind Phonehenge West -- a hodge-podge of a mish-mash of a structure in the Mojave Desert community of Acton -- was convicted Tuesday of nine misdemeanor counts for maintaining illegal properties.

Jurors returned the partial verdict Tuesday against Alan Kimble Fahey. Jurors will return Wednesday to consider additional charges.

The 59-year-old Acton man spent 30 years building Phonehenge West. He said the ruling didn't come as a surprise.

"I'm not stunned,'' he said. "I didn't get to have one witness. I couldn't show one exhibit. I wasn't allowed to have the jury come to my property."

Fahey, a retired phone technician, faces seven years in prison if convicted on all charges. A judge will decide whether to impose the prison sentence.
Fahey said he plans to appeal.

The 1.7-acre property consists of a 70-foot tall tower and buildings made out of utility poles and steel beams. Some are linked by ramps and bridges that leads to patios.

Authorities call it a safety hazard that should be torn down. In an interview with NBC LA earlier this month, Fahey called it, "A museum, a library and a fun place to hang out."

"I am so ticked at these guys," Fahey said of county officials. "They'll never beat me -- ever. They could take this down the bare ground, pack everything into a missile and fire it into the sun. They can't take away 30 years of what a blast we've had here doing whatever we wanted."

Fahey said if he's ordered to take down the structures, he will have just as much fun doing that as he did building Phonehenge West.

During trial testimony, which lasted a week, authorities said they visited his property several times between 1986 and 1995 and again in 2006 and 2007. They said they issued citations and stop-work orders but that he ignored them.

Fahey said he initially tried to work with building inspectors but that they repeatedly demanded changes, lost his plans at one point and quit contacting him for several years while he continued to build.
Related: Facebook: Save Phonehenge West
Local
Local news from across Southern California