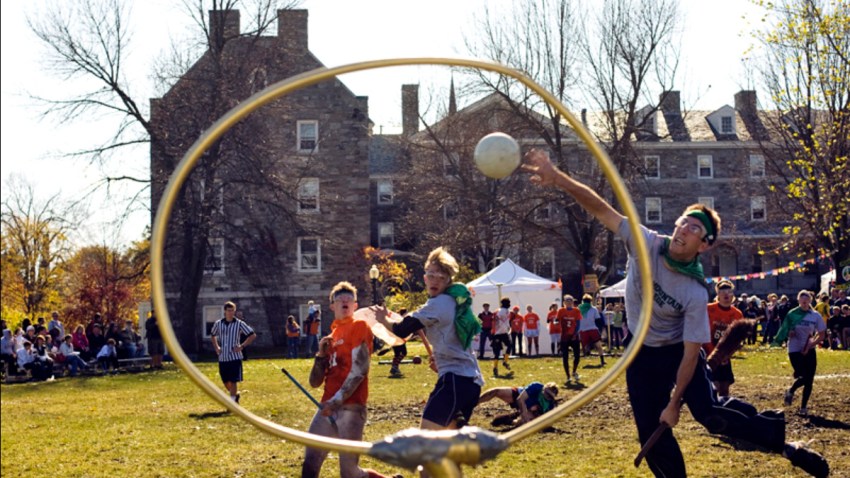 Forget ultimate Frisbee and urban golf, today's college kids are playing a sport with a little more fantasy: Quidditch.
That's right. The magical Harry Potter soccer-rugby-basketball sport played on flying broomsticks is spreading throughout schools on the West Coast.
The collegiate Quidditch leagues are crafted for those of us without magical skills, where players run on a field with a broomstick,
Local
Local news from across Southern California
Occidental College's Quidditch team, the Scarlet Falcons, is currently celebrating its third season, and is gearing up for its first tournament on Nov. 20, hoping to attract teams from other schools.
Headed by co-captains junior Caroline Osborn and senior Aylia Colwell, the team boasts 26 players and is attracting a lot of attention, according to the Occidental Weekly.
"It sounds ridiculous, and it is ridiculous ... but it's actually really hard," Colwell told the Occidental Weekly.
Quidditch teams started gaining ground in 2005, when Middlebury College, in Vermont, started a team and spurred other East Coast teams to form. Currently, there are more than 200 colleges in the International Quidditch Association, a nonprofit dedicated to the growth of Quidditch.
The November tournament celebrates the release of the upcoming Harry Potter movie, which is the first of two movies for the final book of the best selling series. Moorpark College and Arizona State University are expected to join the tournament and teams from USC and UCLA are also a possibility.
Check out the rules if you're not familiar with the game
MTV explores the first Quidditch team, started at Middlebury College: