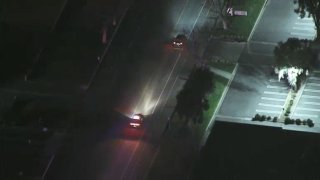 Four people, initially suspected in a residential burglary, were arrested Thursday night after a police pursuit from Burbank to the Pyramid Lake area.
Burbank police identified a vehicle about 7 p.m. in the 800 block of Stephen Road, near Kenneth Road, they believed may have been involved in a residential burglary, according to Sgt. Edward Escobar of the Burbank Police Department.
They attempted to make contact with the suspects in the vehicle, but they sped up, Escobar said. Officers pursued the vehicle on the northbound Golden State (5) Freeway, and then at 8:08 p.m., Burbank police handed the pursuit off to the California Highway Patrol, who trailed the suspects to an area north of Santa Clarita, near Pyramid Lake, according to CHP Officer Stephan Brandt.
Four people were taken into custody after the driver pulled over the vehicle about 8:20 p.m., Brandt said.Four burglary suspects were arrested Thursday in Castaic after a high-speed chase that started in Burbank.
Copyright CNS - City News Service