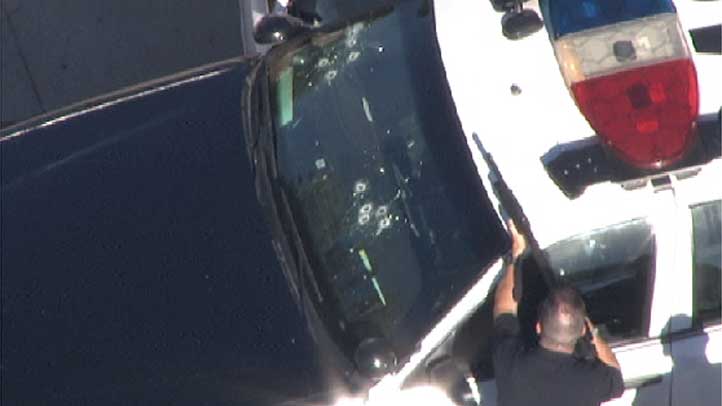 Authorities arrested two suspects in Reseda after shots were fired at a patrol car on Monday afternoon.
Police were pursuing two armed robbery suspects when the chase ended and shots were fired at about 4:35 p.m., according to an official at the Los Angeles Police Department's West Valley Station.
At least 10 bullet holes could be seen in the windshield of a patrol car, aerial video showed.
Local
Local news from across Southern California
One suspect was in custody, the LAPD official said, while the search continued for the other man.
One officer appeared to injured with glass in his eye, aerial video showed. LA Fire Department paramedics appeared to be treating the officer.
Just before 5 p.m., many patrol cars were on the scene of the shooting near the intersection of Tampa Avenue and Strathern Street, later moving to Saticoy Street and Calvin Avenue (map).
Armed officers surrounded a home and had arrested two suspects by 8 p.m. Additional details were not immediately available.

More Southern California Stories: