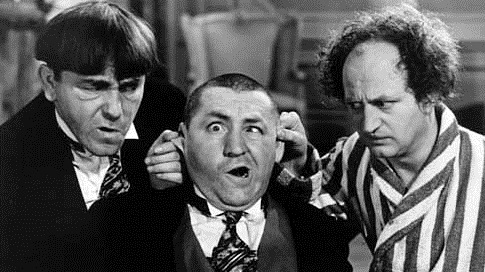 While some writing courses may describe the creation of comedy as a scientific formula — set-up, twist, punchline — fans and comedians alike know that funny films can't be boiled down to the sum of their parts.
But if you were to add up the components that go into truly timeless funny filmmaking, you might start with trio or quartet of strong comedic actors. You'd then give them a strong vaudeville background, infuse every mad plan they undertake with a sense of merry absurdity, and throw in a few solid "nyuks, nyuks" and slapstick for good measure.
We did, in fact, just describe the basics of the Three Stooges, one of the reigning silver screen make-'em-laugh acts of the 1930s and '40s. And they'll be making people laugh again, as they do each year in November, at the Saturday-after-Thankgiving Three Stooges Event at the Alex Theatre in Glendale.
Local
Local news from across Southern California
It's a holiday tradition of the cinematic sort, in short. The Alex Film Society presentation has been around for nearly two decades now, and to call it a classic post-Thanksgiving must-do for movie mavens would not be the equivalent of a verbal pratfall.
There's a 2 p.m. matinee on Saturday, Nov. 26, and an evening affair at 8 o'clock. Several shorts will show, including "Cash & Carry," and Moe, Larry, Shemp, and Curly will all be featured (if you know your Stoogean history, you know that Shemp left the group for a time, but later returned).
Tickets? We're not ribbing you on this one: You should secure your admission in advance, especially considering how much laughs are well loved during the sometimes stressful holidays.
Boiling down the Stooges' skillful silliness doesn't account for the magic they effortlessly create on screen, nor the fandom that have been nyuk-nyuking along with the legends for over 80 years.
Nyuk-nyuk along, in Glendale, a couple days after the big meal wraps and the dishes are done.
Copyright FREEL - NBC Local Media