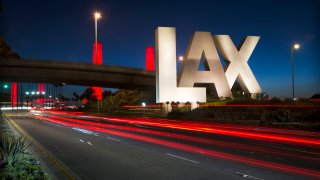 Operations at Terminal 5 of the Los Angeles International Airport are resuming after an unspecified "suspicious item" was cleared from the area on Wednesday, the airport announced on Twitter.
Authorities were investigating a 'potentially suspicious item' in the LAX terminal around 11:45 a.m. Wednesday, and asked people to avoid the area.
"Airport police are investigating a potentially suspicious item in Terminal 5," the tweet read. "Please allow extra time and use the lower level roadway if possible."
The item was cleared just a few minutes after the announcement.
LAX said on twitter that "normal operations are resuming," but warned that delays in travel may continue.
"Please continue to allow some extra time as police clear out of the area and traffic clears on the upper level," the airport asked.