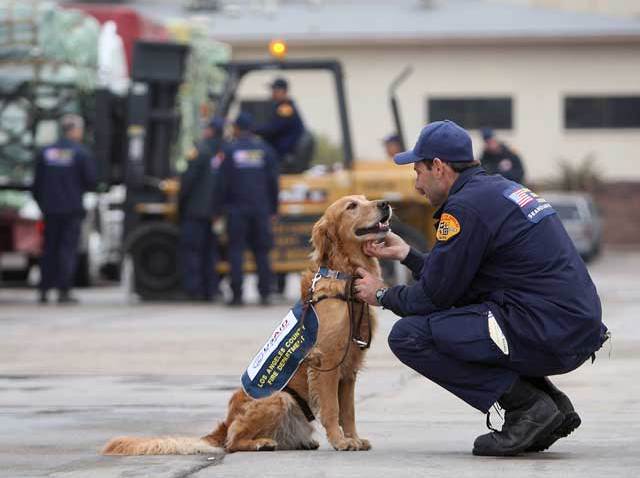 Two urban search-and-rescue task forces assigned to help Haiti earthquake victims are stuck at California military bases.
The Orange County Fire Authority's California Task Force 5 remained Friday at March Air Reserve Base near Riverside. The Sacramento Fire Department's Task Force 7 is standing by at Travis Air Force Base in Solano County.
They are waiting for a flight.
Local
Local news from across Southern California
A Los Angeles County Fire Department urban search-and-rescue team landed Thursday in Haiti to provide help.
Commanders of the 72-member team received a request Tuesday from the U.S. Agency for International Development and set up a staging area at the Urban Search and Rescue facility at 12605 Osborne St. in Pacoima. Team members received the deployment order at about noon Tuesday, and departed Wednesday from March Air Reserve Base in Riverside County, said county fire Inspector Frederic Stowers.
The specialized team will be self-sufficient, Stowers said.
"They'll be working together," he said. "If necessary, they'll coordinate with members of the U.S. Embassy in Haiti for translators. But these guys are trained to be self-reliant."
French is the dominant language in Haiti. No French speakers had been identified on the county's urban search-and-rescue team, but the potential language barrier was the least of squad members' concerns, Stowers said.
The California Task Force 2 team includes firefighters, paramedics, rescue specialists, emergency room physicians, structural engineers, heavy equipment specialists, search dogs and handlers, hazardous material technicians, communications specialists and logistics experts.
The rescue team will bring with it 55,000 pounds of prepackaged tools and medical equipment to conduct around-the-clock search-and-rescue operations.
A Mission Viejo church received an e-mail Wednesday confirming that its missionaries were safe. The e-mail also provided a first-hand account of the destruction.

"It's overwhelming to see all the devastation and injuries," Jim Duggan, leader of the missionary team, wrote, according to the OC Register. "We pray more doctors and nurses will come."

The church lost phone contact with the group after the earthquake. Church officials send Twitter messages asking for information about missionaries at the Maison de Lemiere orphanage. They were encouraged when they saw tweets regarding the orphanage from a missionary in Port Au Prince.
Gov. Arnold Schwarzenegger issued a statement of support.
"I have directed my Emergency Management Agency to continue to work closely with our federal agency partners to ensure California stands ready to immediately offer any additional assistance needed to help Haiti recover from this devastating earthquake," Schwarzenegger said.
The earthquake struck Tuesday at 12:53 p.m. Pacific Time about 10 miles southwest of the capital of Port-au- Prince, according to the U.S. Geological Survey. Countless buildings lie in ruins in the densely populated capital city, and hundreds of thousands of people are feared dead.
The Los Angeles-based international aid organization Operation USA announced that it will be sending medical aid to Haiti. Information on donating to the group is available online at www.opusa.org or by calling 800-678-7255.
Other organizations that are organizing relief efforts can be found here.
Copyright CNS - City News Service