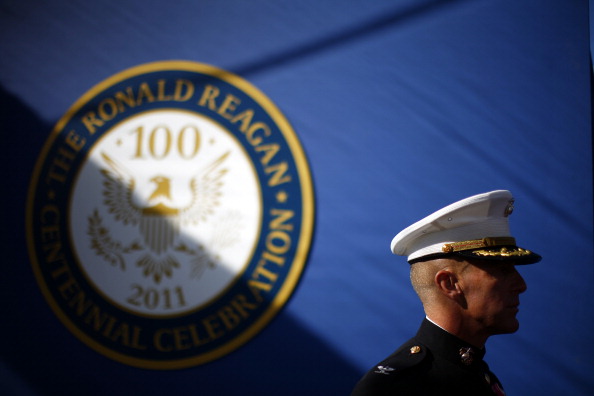 Admission will be free at the Richard Nixon Presidential Library & Museum in Yorba Linda Monday for Presidents Day.
Details: Nixon Library | Reagan Library

The Nixon Library will be open from 10 a.m. to 5 p.m., with the first 100 guests receiving a free slice of cherry pie.

Actors portraying the presidents depicted on Mount Rushmore -- Thomas Jefferson, Abraham Lincoln, Theodore Roosevelt and George Washington -- will be available for pictures throughout the day and participate in a roundtable discussion at 2 p.m. about America's role in the world when the men they are portraying were president.

James Humes, an author and presidential speechwriter during the Nixon administration, will perform "Abe Please Don't Go to Gettysburg: The Inside Story of the Gettysburg Address" at 11:30 a.m.
Lookalikes and Storytelling at the Reagan Library

In Simi Valley, the Ronald Reagan Presidential Library will mark the holiday with a free set of family-oriented activities.
Local
Local news from across Southern California
The Reagan Library will conduct its 19th annual Presidents Day Celebration from 10 a.m. to 3 p.m., with presidential and first lady lookalikes, music and storytelling. Admission is free, with food available for purchase.

The library will be open from 10 a.m. to 5 p.m., with its regular admission rates -- $12 for adults, $6 for children ages 11 to 17 years old and $9 for ages 62 and older. Children under 10 years old are admitted free.

Although commonly known as Presidents Day, the Monday holiday is still legally Washington's Birthday.

The holiday was shifted from Feb. 22 to the third Monday in February 1971 under the terms of the Uniform Monday Holiday Act of 1968. Because the holiday falls between Feb. 15 and 21, it can never fall on the actual anniversary of Washington's birth in 1732.

The term Presidents Day began being popularized in the 1980s, when retailers combined sales formerly held in conjunction with Washington and Lincoln's birthdays.
Holiday Closures, Schedules

Government offices, courts, schools, libraries, banks and post offices will be closed for the Presidents Day holiday.

Trash will be collected as usual in the city of Los Angeles.

Metrolink trains will run on a normal schedule. Metro buses and rail lines will also run on a normal schedule.

The following Foothill Transit lines will run on a weekend schedule: 178, 185, 187, 195, 197, 269, 272, 274, 280, 281, 282, 284, 285, 286, 289, 291, 480, 482, 486, 488, 492 and the Silver Streak. No other lines will be running.


Copyright CNS - City News Service