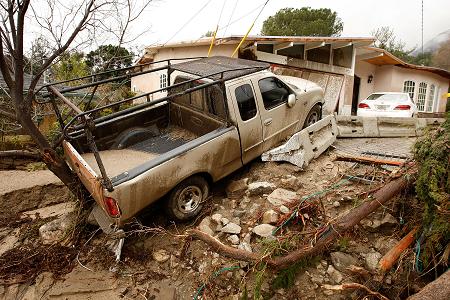 Los Angeles County Department of Public Works crews Monday worked in storm-damaged neighborhoods to clear debris basins before more wet weather reaches the region.
Heavy equipment operators loaded debris into dump trucks, and crews removed mud from inside homes.
According to the National Weather Service, showers are likely Tuesday, with a slight chance of thunderstorms Tuesday night.
Local
Local news from across Southern California
Gary Boze of the public works department said the cleanup is a 24-hour-a- day effort involving at least 300 crewmembers.
"They are trying to make sure that those residential streets hit hardest with the mud flow have the K-rails back in place so first responders have access," Boze said. "They also are cleaning away all large trees, trunk and limbs that have gotten into the debris basins or cut down in such a way they won't block up the draining system."
On Sunday, Gov. Arnold Schwarzenegger said he would cut red tape to help with recovery efforts and appoint a blue ribbon panel to investigate claims of federal mismanagement of last summer's Station fire.
"It's important for us to come out, right now, and say, 'What can we do to help?'" Schwarzenegger said during a tour of La Canada Flintridge, the scene of some of the worst damage.
Saturday's storm caused debris basins to overflow into residential neighborhoods, and although evacuated foothill residents were allowed back in their homes on Sunday, more than 40 houses in La Canada Flintridge were mired in mud and at least nine were uninhabitable.
The governor pledged to cut red tape to find disposal sites for thousands of truckloads of debris that must be removed from houses, yards, streets and catch basins.
No state emergency declaration is necessary because the county is already under one because of January's storms.
The governor also promised to "appoint a blue ribbon commission to look into" local claims that the debris flows could have been avoided had the U.S. Forest Service not mismanaged the response to last summer's Station fire.
The Los Angeles Times first reported that the Forest Service decided not to provide air support for firefighters on the crucial second day of the fire, allowing it to grow to 160,000 acres -- the largest wildfire in Los Angeles history.
A review by the Forest Service concluded in November that aircraft would have been ineffective because the Station fire was burning in a canyon too treacherous for ground crews to take advantage of water dumps, but that finding has been disputed by fire commanders who took part in the battle.
On Sunday, county Supervisor Mike Antonovich called the storm damage in foothill communities such as La Crescenta, Acton, Altadena and La Canada Flintridge a "devastated war zone," and said those communities were "suffering from the actions of the U.S. Forest Service." He said he was hopeful that federal reforms would be made to avoid a repeat of past mistakes.
Most foothill areas got a total of more than 3 inches of rain. Though more rain fell during last month's weeklong storm, the clogged catch basin and the cumulative effect of the rain apparently contributed to the mud flows.
Cars, 2-ton concrete K-rails, logs and boulders were thrown around like toys, and at least nine homes were awash in mud. About a dozen others sustained significant structural damage. About 25 cars were wrecked, and dozens of swimming pools were filled with mud.
On Manistee Drive, just off Ocean View Boulevard, a 20-year-old man was awakened by mud and debris hitting the side of his home about 5 a.m. He made a narrow escape as his window broke and the room started filling with muck.
"It was about 5 a.m. and it was really loud, so I decided to get up," said Jennifer Dickens, who lives across the street. "I saw this wave coming. It was like a waterfall hitting the house."
Copyright CNS - City News Service