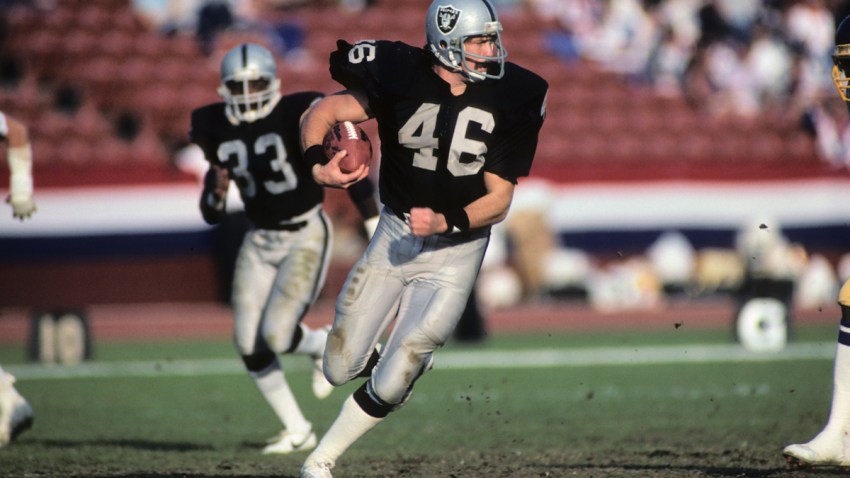 Todd Christensen, who won two Super Bowl titles with the Raiders, died Wednesday due to complications from surgery, according to Brigham Young University.

Christensen battled liver disease and other illnesses. He was 57.
"Thoughts and prayers to the family of BYU football great Todd Christensen, who passed away today," read a BYU tweet Wednesday morning.
The Associated Press, citing Christensen's son Toby Christensen, reported he died from complications during liver transplant surgery. He died Wednesday morning at Intermountain Medical Center near his home in Alpine, Utah, the Toby Christensen told the AP.
Local
Local news from across Southern California
"I've been receiving hundreds of texts, Facebook postings and emails -- from everybody with a story about my dad," Toby Christensen told the AP.

Christensen played at running back as a member of the BYU football team, but changed positions in the NFL to become one of the game's best pass catchers. Christensen twice led the league in receptions -- a rare accomplishment for a tight end.

His 11-year pro career began when he was drafted by the Dallas Cowboys in 1978. Christensen played in the backfield during a preseason game with the Cowboys, but suffered a foot injury that sidelined him for his rookie season. The team wanted him to play tight end in his second season, but released him when he expressed reservations about the change.
It wasn't until joining the Raiders in 1979 that he began to adjust to the new position. In 1983, he led the league with 92 receptions. He beat that mark in 1986 with 95 receptions.
"Todd was an excellent football player and was prolific in the passing game," said former Raiders coach Tom Flores. "He was a hybrid tight end, an H-back before it became a football term. He started out as a special teamer and was named our special teams captain right away while playing behind Raymond Chester and Dave Casper. He then helped us win Super Bowls."
He won two Super Bowls with the team and was a vital part of the franchise's success after it moved from Oakland to Los Angeles following the 1981 season. Christensen went on to five Pro Bowl appearances and finished his career with 467 catches and 5,872 receiving yards.
He passed 1,000 receiving yards in three different seasons.
Considered a Rennaisance man whose artistry went beyond the football field, Christensen wrote poetry and even read some of his work to reporters at a Super Bowl news conference. In a 1985 LA Times article, Christensen was referred to a "Player for All Seasons" because of his thoughtful -- sometimes thought-provoking -- responses to questions during press conferences.

He later published three books of poetry.
The life-long athlete -- Christensen also tried out with the Athletics and Angels after his NFL career and competed in several masters track and field events -- became an NFL television analyst. He also appeared as a guest and host on several television shows.
Christensen was born in Pennsylvania but moved to Eugene, Ore., as a child. The family believes his liver problems started 25 years ago after a "botched" gall bladder operation, his son told The Associated Press.
Christensen is survived by his wife and four sons. The family was making plans for a funeral as early as Saturday at a Mormon church ward house in Alpine.
Thoughts and prayers to the family of BYU football great Todd Christensen, who passed away today. pic.twitter.com/Ciiwi1KRMZ — BYU (@BYU) November 13, 2013