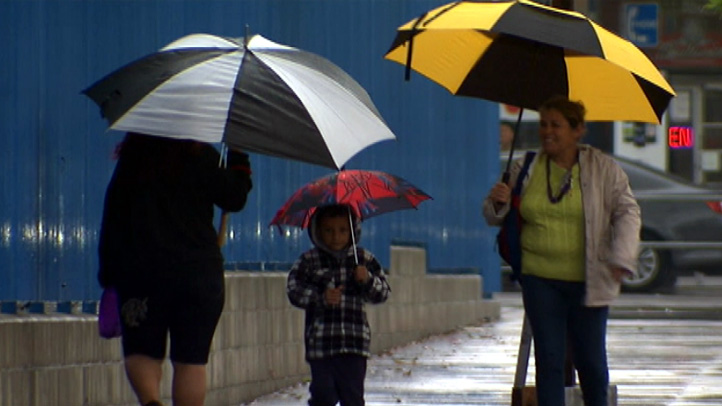 Crews were working on Monday to restore power that was knocked out to nearly 20,000 residents and business owners across Southern California on Monday due to rain.
In the city of Los Angeles, some 13,000 residents were without power mostly in the Westside and the San Fernando Valley, said Carol Tucker, a Department of Water and Power spokeswoman.
Outside LA, in areas controlled by Southern California Edison, some 5,000 homes and businesses were without power.
Local
Local news from across Southern California
Weather: Interactive Radar | Traffic Maps | Send Us Your Weather Photos (isee@nbcla.com) |
Download Our Free Weather App
Several solo-vehicle crashes were reported early Monday, when radar showed a band of showers moving along much of the Southern California coast. Nearly a half-inch of rain fell early Monday in the Pacific Palisades area.

"It is wet out there," said NBC4 forecaster Carl Bell. "We're just getting started with this weather system. It will continue off and on throughout the day."

"As we head toward the evening commute, we start drying up a little. There will be some scattered showers."
Rainfall totals of a half-inch to three-quarters of an inch are likely. More than one inch of rain is likely in mountain areas.

"That's fairly decent rain, and in some cases, could be a record because it doesn't rain a whole lot in May in Southern California," Bell said.
The May rainfall prompted a beach advisory from the Los Angeles Department of Public Health. Beach visitors should avoid areas near storm drains because of potentially hazardous discharge.

Bacteria can enter the outlets as rain water washes debris from city streets and mountain areas. The advisory will be in effect until at least Thursday.
"We do advise swimmers and surfers to stay away from the storm drains, creeks and rivers as there is the possibility that bacteria or chemicals from debris and trash may contaminate the water near and around these areas, and some individuals may become ill," said Dr. Jonathan E. Fielding, county public health director.

Another round of rain is possible at about midnight and again late Tuesday morning.

Snow is possible at mountain elevations around 6,500 to 6,000 feet. A winter weather advisory is in effect for San Bernardino County mountain communities.
In Riverside County, wind gusts reached 54 mph in the Coachella Valley overnight. The spring weather system might bring strong wind gust again Monday afternoon.

Expect temperatures in the 50s Monday morning.
The rain comes after a week of hot, dry and windy conditions that fueled several wildfires, including a 28,000-acre fire in Ventura County. There is no immediate threat of a landslide, but Caltrans secured $2.5 million to install fencing along portions of Pacific Coast Highway affected by the wildfire, which was 80-percent contained Monday morning.
The fencing is designed to stabilize soil on burn areas above the freeway.
Crews plan to "mop up" hot spots Monday in the Springs fire burn areas. Fires also burned last week in Riverside County, Glendale and other parts of Southern California.
"We've had a very busy start to this season," said Tom Piranio, of Cal Fire. "The fuels we're seeing now are usually what we see in August."