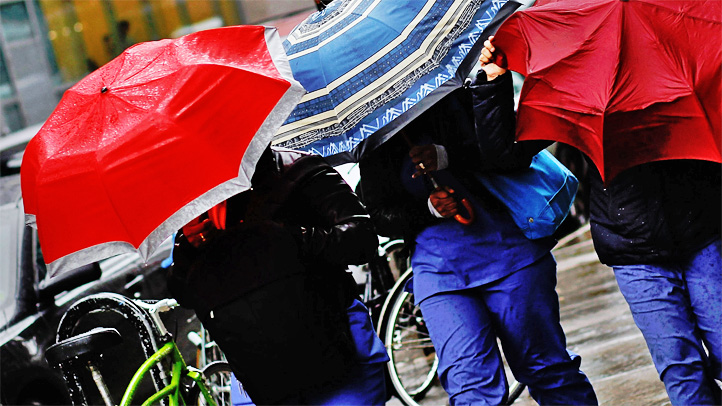 A storm that hit the Southland early Saturday caused rain-slick roads and at least two early morning freeway crashes, officials said.
The first of two relatively weak weather systems hit the area around 4 a.m. bringing with it light to moderate rainfall and cooler temperatures to the area. Forecasters predict rain intermittently through the day before tapering off tonight and returning on Monday.
In addition to the rain, gusty southwest winds are expected to lash local mountain areas and the Antelope Valley.
Local
Local news from across Southern California
A wind advisory -- meaning winds at sustained speeds of 35 miles per hour -- will remain in effect from 3 p.m. to 7 p.m. Saturday in the Antelope Valley, where 50-mph gusts are likely later.
A quick-moving cold front will then slide into the region Sunday night, according to forecasters, producing even less rain than the first system before it clears out Monday afternoon.
Snow levels will initially be around 9,000 feet, then lower to 6,000 feet by Saturday night, forecasters said.
Forecasters expect less than an inch of rain in Southern California this weekend.
Temperature were expected to be mostly in the low to mid 60s today, climbing several degrees on Tuesday, when sunny weather will reappear.
A high surf advisory was in effect for some beaches from 5 a.m. Sunday to 5 a.m. Monday.
The rain-slick roads were blamed for causing several early morning crashes.
A crash involving four vehicles and a big rig on the eastbound Ventura (101) Freeway just east of Tampa Avenue shut down three lanes of the freeway and the Tampa on-ramp, the California Highway Patrol said.
Crews were working to clean up a crash between a Fed-Ex truck and big rig carrying a load of oranges on the southbound Golden State (5) Freeway just south of the southbound SR14 in the northern part of Sylmar.
The crash caused the truck to jackknife and spill its load of oranges shutting down both lanes of the truck route, which runs parallel to the 5 Freeway.
Follow NBCLA for the latest LA news, events and entertainment: Twitter: @NBCLA // Facebook: NBCLA