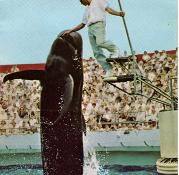 On Saturday, September 25, 2010, Terranea Resort will pay tribute to its historical location with the first Marineland Reunion.
"Partnering with Pacific Beach Life, Terranea is proud to welcome back former Marineland employees, along with residents and people with fond memories of the marine park, many of whom have not been back to the property since the park closed nearly 24 years ago. The reunion will be the first gathering of former employees on the Marineland property since the park closed on Feb 11, 1987, according to a news release issued Tuesday.
"We're thrilled to have the Marineland Reunion at Terranea. We have an awesome responsibility to this beautiful and historic site and the Resort was painstakingly developed to care for this irreplaceable land," said Terri Haack, managing director of Terranea Resort. "A visit to Rancho Palos Verdes and Terranea is a journey to the Southern California lifestyle of a bygone era - epitomized by Marineland - that emphasizes an appreciation and reverence for casual outdoor living and respect for nature.
Local
Local news from across Southern California
"Activities throughout the day will include:
- A guided walk illustrating Marineland places of interest
- Display of Marineland memorabilia and photos
- Noon- 2 p.m.- Admiral Risty Lunch Buffet ($35 per person)
- 1 p.m.- Sea lion release on the beach with the Marine Mammal Care Center (MMCC)
- 2-5 p.m.- Jazz concert on The Meadows produced by Freedom 4U ($10 per person)
- 5-6 p.m.- A special Marineland Happy Hour at Nelson's restaurant
"Proceeds from the jazz concert will benefit Marine Mammal Care Center at Fort McArthur. Visit Pacificbeachlife.com to register. Bring the family and spend the day. Special room rates are available starting at $205 per night. Visit www.terranea.com and enter the promotional code Marineland2010 to book a reservation," the news stated.
To find out more about the tribute to Marineland and how to attend go to a special website set up at www.Pacificbeachlife.com

In August, 1954, Marineland of the Pacific opened to the public. Located at the tip of the Palos Verdes Peninsula in Los Angeles County, California, it was the largest oceanarium in the world. Marineland was sold and closed in 1986 when acquired by Sea World in San Diego.

Terranea Resort is located about 20 miles from Los Angeles International Airport. Poised above the Pacific Ocean on the Palos Verdes Peninsula, the property boasts a 582-room Resort including a 360-room hotel. Hotel information can be found at www.terranea.com.