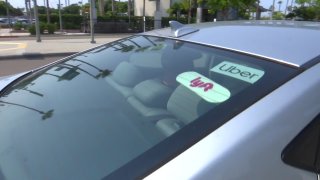 People looking to use ride-hailing services such as Lyft and Uber might be in for some difficulty Wednesday, as many drivers are conducting a one-day strike for better pay and status under the law.
Rideshare Drivers United -- an independent association of U.S. rideshare drivers founded in Los Angeles -- is organizing the strikes in a number of cities across the United States, including Los Angeles, San Diego, San Francisco, Austin, Boston, Cleveland, Las Vegas, Pittsburgh, Denver, and Baltimore.
The group scheduled a rally near LAX at 1 p.m. Wednesday.
They say the companies have:
Reduced mileage rates, lowered commissions, taken away flexibility and transparency;
Continue to exploit workers by manipulating algorithms;
Broken promises of Prop 22.
Prop 22, passed by California voters in November 2020, allows ride-hailing companies to avoid classifying drivers as employees.
Rideshare Drivers United is also calling for the passage of the PRO Act, short for Protecting the Right to Organize, which would expand protections for workers seeking to unionize. It passed the House of Representatives and has the support of President Biden.
Uber released a statement that read:
"In California median earnings for drivers the entire time they are on the app, excluding tips, are currently $32.33 per hour and $42.44 per hour when including driver incentives. In addition, all drivers and delivery people in California are guaranteed minimum earnings of 120% of local minimum wage for engaged time on Uber. To date, tens of millions of dollars have been paid out to drivers and delivery people to cover minimum earnings and healthcare subsidies in California because of prop 22."
For its part, Lyft provided statements from some of their California drivers such as Oxnard resident Elizabeth Clews that reads:
"As a single mom to two young boys, I was terrified when I lost my job as the pandemic hit. Thankfully, I was able to turn to delivery through DoorDash to replace that lost income. App-based work has been a lifesaver during the pandemic."
And San Diego resident Al Porche:
"Prop 22 has provided drivers, like me, with higher earnings and new benefits, but it has also protected my ability to drive when, where, and how I want. I've been able to retain my freedom to work as an independent contractor, all while securing more income and benefits than before."
And also San Francisco resident Jimmy Strano:
"The flexibility and higher earnings that Prop 22 provided are incredibly valuable to me and hundreds of thousands of drivers like me. As someone with health issues, the ability to choose when I work, where I want to work, and how long I want to work can't be overstated. Prop 22 protected that flexibility and gave drivers historic new benefits, including access to a health care stipend."
On its website, Lyft praises Prop 22 for allowing rideshare drivers in California to work "under a new model that gives them historic new benefits and protections: a healthcare stipend of up to $4,800 per year, workplace injury protections, and a minimum earnings guarantee, all while ensuring that drivers keep what they want most: flexibility and independence."
Copyright CNS - City News Service