A 5-foot emu was captured in a remote town in Riverside County, and animal control officers are hoping the big bird's rightful owner will come forward and claim it.
The emu was first reported loose over the weekend, but it wasn't until Tuesday that Riverside County Animal Services Officers were able to take it into custody after a good Samaritan managed to trap the wayward animal in their five-acre ranch in the Aguanga area, about 100 miles southeast of Los Angeles.
Animal control officers say it was no trouble taking the emu to the San Jacinto Valley Animal Campus - the bird was domesticated and had been fed by the land owner.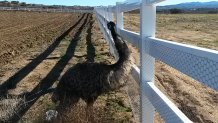 "We definitely believe the bird to be a pet," said Carra Mathewson, one of the officers that rounded up the emu, in a news release from Riverside County Animal Services. "He's definitely very tame. Someone owns him and somehow he got loose. Either that, or he was purposely abandoned. But we're hopeful that somehow the bird just managed to roam and the owner is out looking for him."
Officers released three images of the big brown bird in hopes the owner will recognize it.
[LA GALLERY 10/2]Exotic Animal Sightings in SoCal