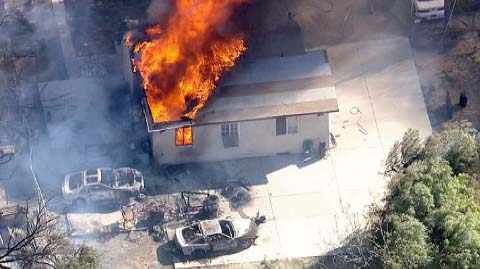 Evacuations were ordered Tuesday as a fire spread in Jurupa Valley, where strong winds whipped heavy smoke and embers toward homes, businesses and a child care center, authorities said.
Dubbed the Mission Fire, the blaze broke out in what appeared to be a vehicle storage yard about 10:30 a.m. in the 5900 block of Mission Boulevard, according to the Riverside County Fire Department.
Two acres of vegetation, 40 vehicles (most of which were under repair or salvaged), three motorhomes and four residential homes were destroyed, the agency said, citing a preliminary damage assessment. Two structures were damaged.
Local
Local news from across Southern California
Family of 7 Homeless After Jurupa Valley Fire
The fire was fully contained by 6 p.m. A firefighter was treated for non life-threatening injuries, and no other injuries were reported.
Mandatory evacuation orders were lifted by 6:30 p.m., officials said.
The Rubidoux Child Care Center (map) and West Riverside Elementary School were evacuated. Students from the elementary school were being taken to Mission Middle School, located at 3600 Packard St.
An evacuation center has been set up at Patriot High School, located at 4355 Camino Real in Jurupa Valley (map).
One structure was seen engulfed in flames, with two cars sitting burned in the driveway (pictured at right), according to aerial footage.
A father of seven children, including a 16-day-old, told NBC4 he was eating breakfast with his family when his mobile home caught fire. He said he tried to extinguish the blaze himself, but the fire destroyed his home. His family is safe.
Download NBC4's Free Weather App
Multiple powerlines in the area are down and Mission Boulevard is closed at Pacific Avenue, officials said.
Some 110 firefighters were on scene.
Temperatures in the neighborhood were about 76 degrees as the fire raged, with wind gusts up to 28 mph, according to the National Weather Service.
Goats Enlisted to Fight Fire Danger
Much of Southern California, including Riverside County, remained under Red Flag warnings Tuesday as dry, hot conditions fueled high fire danger.

NBC4's Jacob Rascon contributed to this report.