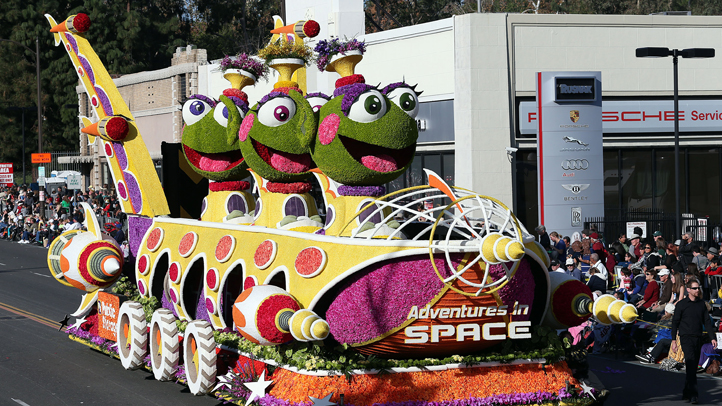 If it is the first day of December, then you can state, with almost near-certainty, that the Rose Parade Presented by Honda is exactly a month away.
But wait.
Except you can't do that this year, for the first of January in 2017 is a Sunday, and, as watchers of the venerable procession know, the started-in-1890 parade never, ever happens on that particular day of the week.
Local
Local news from across Southern California
Ever.
Thus we're just about a month out from the Monday, Jan. 2, 2017 Pasadena party, which means this: The time to brush up on your floats has arrived.
And The Pasadena Tournament of Roses is facilitating that by giving flower fans an early look at what floats will appear in the 2017 spectacular. The list, revealed on Nov. 30, includes a bouquet of local places and groups, a number of companies, some educational representation, and the National Hockey League.
Indeed, the NHL will run a blossom-bedecked float in the parade, as will "The Bachelor," Miracle-Gro, Trader Joe's, Shriners Hospitals for Children, City of Hope, City of Los Angeles, Cal Poly Universities, and the California Milk Advisory Board.
Even Netflix will have an episode — er, float — out on Colorado Boulevard.
And, you bet: The two teams that'll square off in the Rose Bowl will also have floats in the parade but that is, of course, TBD as of early December. And will the royal court ride grandly on a petal-amazing chariot? It's a parade highlight, and airtight tradition, so you bet.
The sizable roster, published at the organization's site, includes what builders will be behind what floats, with some of the longtime classic float pros making the scene, from Fiesta to Phoenix (with a few "self-built" making a showing as well).
But what will we see on each float, design-wise? Those looks will flower, literally, near the end of the December, thanks to the hours put in by volunteers and staffers who'll place each seed pod and bud just so, in order to give this iconic event its bloom-big character.
Want to be surprised at what the 128th annual Rose Parade will hold? Don't peek at the list, but do know that if you're playing around Pas ahead of the New Year, coming across a hard-to-miss float or float team by surprise is, if not assured, one of the charms of the holidays in the historic city.
Copyright FREEL - NBC Local Media