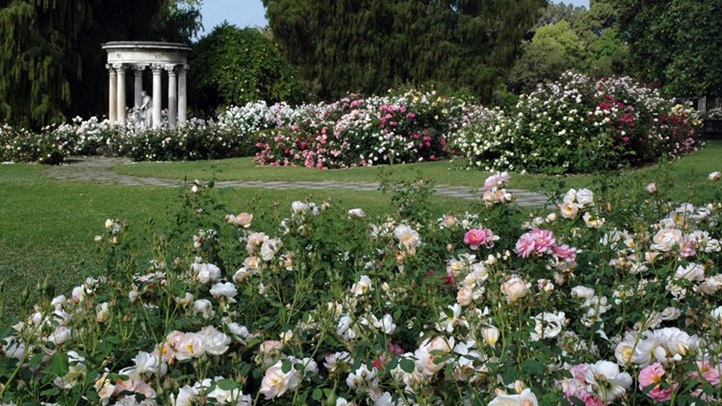 One flowery fact can be stated, without argument, quibble, or cocked eyebrows, come the end of the year: The Tournament of Roses is so large that smaller homages around Southern California can't help but spring up, like so many robust roses, when the New Year's spectacular draws near.
True, the large-scale event, which has its rosy roots in the 1800s, is so massive that one could plan a full week simply around all of the float-decorating, float-viewing, band-admiring, and game-watching possibilities.
And, true again, one hardly needs to step all that far from Colorado Boulevard to find delightful, traditional, and visual diversions during the final week of December.
Local
Local news from across Southern California
But also totally true? There are other parade- and game-homaging happenings around the region, and while they're not officially under the tourney's umbrella of events, these to-dos still possess some parade-style panache and cred.
Make for Lawry's The Prime Rib Restaurant, in Beverly Hills, where the annual Beef Bowl has been providing Rose Bowl teams with protein aplenty in the days ahead of the important game. Over "82,100 pounds of prime rib" have been served to athletes prepping for the Rose Bowl since 1956, making a special dinner at the historic venue a meaty must for visiting (and local) fans.
After you've had your fill, head a few minutes east, to the Original Farmers Market, where the famous clock tower is playing both USC Trojans fight song and the Penn State Nittany Lions fight song right through to game day. The Third & Fairfax landmark has become a go-to stop for fans in town to see the Rose Bowl, fans who frequently don a tee or sweatshirt in support of their team while calling upon the public market. Also? It's open on New Year's Day.
And as for the rosiest stretch in town? True, that just might be Orange Grove or Colorado on Monday, Jan. 2, thanks to all of those iconic floats, but The Huntington Library, Art Collections, and Botanical Gardens boasts a bevy of buds that remain planted in terra firma. It turns out roses do bloom in winter 'round Southern California, and how, so stop by the San Marino plot, which is open every day through Monday, Jan. 2 (though it will be shuttered on Jan. 3, do note).
You can find much to do around Pasadena when the old year ends and the new one starts, but a wider map of rosy haps can be found in Beverly Hills, the Fairfax District, and San Marino, which is just a hop/skip from all of the Colorado Boulevard-based hubbub.
Copyright FREEL - NBC Local Media