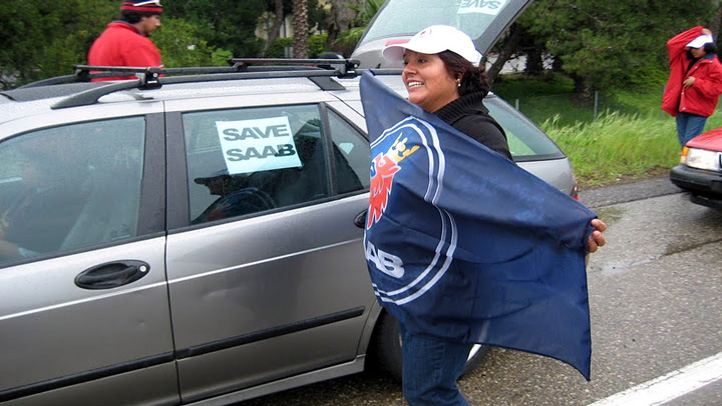 Saab owners are lamenting the demise of an automaker that started out as an airplane company and went on to create some innovative and distinctive cars that were not going to be mistaken for anything else on the road -- whether that road was an icy ribbon of mountain switchbacks or a bustling LA freeway.

Swedish automaker Saab moved another step toward closing its doors for good Monday when the company's chief exec handed in a bankruptcy filing. CEO Victor Muller personally delivered the document to the Swedish court.

It was a move that seemed like a long time coming for loyal owners, who celebrated the simple fact that Saabs are not Audis, BMWs or Mercedes. Saabs, particularly the wedge-like 900s of the 1980s, stand out from the pack.

"That's particularly true in LA,," said Drew Price, of the LA Saab Club. "The market is a lot bigger on the East Coast and places like Colorado because Saabs behave the best in that kind of weather. But they're even more unusual here in the warm climates.

"I think a lot of the attraction is that it's a non-mainstream product -- you don't see a lot of them."

Unless you're a member of the Price family. He bought his first Saab, a 1985 900 SPG, at age 16.

Outside of an ill-fated affair with an Alfa Romeo GTV6, Price and his family have been devoted to Saab. He came home from the delivery room in one and has owned about 25 Saabs.

For Price, who managed a Saab service shop on the Westside, the 900 model from 1979 through 1993 represents the best of Saab -- stand-out styling, electronic innovations, advanced safety features and satisfying levels of performance.

"There was a high attention to detail to how people use their cars," Price added. "Cargo space, it's comfortable on a long trip. There was a usability aspect that went into that design. Everything on it just sort of made sense."
Price currently owns two 99s, two 900s and a 9-5.
Another club member, Orange County resident Jeff Kroeze, has owned five Saabs since he turned in his SUV in 2004. He currently has two 1980s 900s, a convertible and hatchback.

"They just have a great combination of everything I want in a car," said Kroeze. "They're fun to drive. They were pioneering turbo charging long before it was becoming a trend, and you get a lot of car for the money. And, Saab owners love to brag about how much they can stuff in the car."
Local
Local news from across Southern California
Saab started out at an airplane company in the late 1930s and began selling cars in the late 1940s.

Matching the success of the 900s in the 1980s has been elusive. There was hope that a buyer would step forward to rescue the ailing company and resume making cars that people wanted to buy.

In early 2010, GM reached a deal to sell Saab to Spyker Cars -- a Dutch manufacturer of supercars. Saab had hoped for cash from Chinese investors, but GM did not support the deal, according to Muller.

There are "still parties out there that have expressed an interest," Muller told the New York Times.
A post on the LA Saab Club's message forum Monday took another optimistic view: "So this means we all own classics and they are worth twice as much! Right?"
On its Google groups page, the club is described as "a strikingly attractive, fun-loving, and easy going group of Saab drivers."
Are there any other kind? They meet monthly for drives and anything else Saab related, such as a "Save SAAB" caravan two years ago.
One of the group's photos made it into a print ad that Saab ran in February (second row, second from left).
"It's hard to place blame on one thing, but it's probably a combination of GM's lack of understanding of the brand, trying to mainstream them," said Kroeze. "There was underinvestment there. People expect models every few years, and things started falling off people's radars after a while."

Despite what appears to be the end of the road, Price, Croeze and other club members still have cars that are reminders of better times.

"Saab was caught in an awkward position of trying to make a product for a very small market," said Price. "It never really had resources to compete on an international level."
Follow NBCLA for the latest LA news, events and entertainment: Twitter: @NBCLA // Facebook: NBCLA